17 December 2018
Optical transceiver market grows 8% year-on-year in Q3/2018 despite localized headwinds
The market for optical transceivers eked out respectable year-on-year growth (+8%) in Q3/2018 despite headwinds faced by several vendors, according to LightCounting's Quarterly Market Update. Strong year-on-year sales growth was reported by II-VI (+20%), Accelink (+18%), Innolight (+18%), Lumentum (+49%), Neophotonics (+15) and Sumitomo (+12%), while quality issues at AOI (down 36% year-on-year), and incomplete recoveries from ZTE's Q2/2018 shutdown at Acacia (down 10% year-on-year, despite being up 46% versus Q2) and Oclaro (down 15% year-on-year, while up 9% sequentially) suppressed the market average.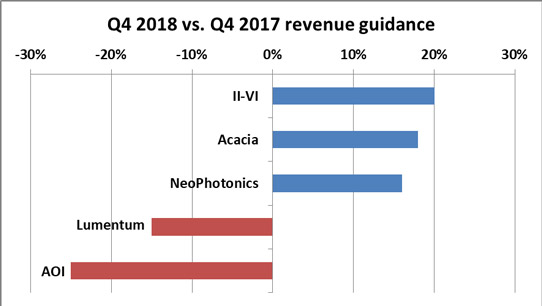 Figure: Q4/2018 sales guidance of optical components manufacturers.
This 'ying and yang' market dynamic was also present in company guidance for Q4/2018, which ranged from strong growth to seriously disappointing. II-VI continues to benefit from strong demand for reconfigurable optical add/drop multiplexers (ROADMs) and 980nm pump lasers, and guided for 20% year-on-year growth. Acacia and Neophotonics guided for mid-teens growth in sales on the back of new CFP2 and 600G products (Acacia) and increased sales to Huawei (NeoPhotonics).
Lumentum had guided for 14% growth, but had to revise that to -15% after a 'large consumer electronics customer' (Apple) said it wouldn't need as many VCSEL arrays in Q4/2018 as it first thought. Also, AOI is still struggling with a quality issue that is limiting its ability to ship everything that customers want.
The fundamental drivers of growth in the optical components data-center segment remain strong, says LightCounting. Internet content providers (ICPs) spent 66% more on property plant and equipment in the first three quarters of 2018 than in the same period in 2017. Data-center storage, server and switch makers benefited from this largess, growing sales 14% year-on-year through September, despite the continuing migration towards open systems and white-box manufacturing. And while sales for datacom equipment vendors as a group were down 3% sequentially in third-quarter 2018, seven – Arista, Dell, Extreme, Inspur, Lenovo, Mellanox and NetApp – reported double-digit sales growth compared with Q3/2017. Sequential growth was more mixed, indicating that, although ICPs are spending at a new higher level in 2018, they are not increasing spending through the year.
Communications service providers (CSPs) held capital expenditure (CapEx) flat in the first three quarters of 2018 on a year-on-year basis. While commercial 5G services were launched in September by Verizon, its four-city rollout and other operators' equally small initial deployments are not yet of a scale to require an appreciable increase in capex. China's 5G rollout is about a year behind Verizon's. Publicly reported sales from telecom equipment makers were down 2% year-on-year through September, partly because of ZTE's forced shutdown in Q2/2018. However, like the optical component market, the average belies a wide range of performance. Ciena and Infinera both reported double-digit year-on-year sales growth for 2018 through the end of September, while ZTE was down 20%, and Ericsson and Fujitsu sales were also lower this year compared with 2017.
DWDM port shipments (a more direct indicator of optical component demand in the communications service provider segment) rose 48% year-on-year in 100G port-equivalents. While 100G ports only grew by single digits, 200G-capable ports rose by 189%, and 400G-capable shipments - though still small - increased by 272% compared with Q3/2017.
The outlook for 2019 is for continued growth, with the occasional pothole. LightCounting's recent 5-year market forecast forecasts double-digit growth in revenues for the Ethernet, WDM and wireless transceiver segments, as well as in active optical cables (AOCs). The need for speed continues to drive the adoption of higher-priced modules in all three segments. Products that are expected to have particularly strong growth in 2019 include 100GbE Ethernet transceivers in several flavors: 200G DWDM (CFP2 ACO, CFP2 DCO), and 25G SFPs for 5G front-haul.
Near term, the biggest threat to growth in 2019 is the deteriorating US–China trade relationship, strained by the recent arrest of Huawei's chief financial officer. If Huawei gets hit with a sales ban like ZTE, the impact could be as bad or even worse than the ZTE shutdown. More generally, trade tariffs - or just the threat of tariffs - could disrupt existing supply-chain relationships, as companies move manufacturing or change suppliers from one country to another to eliminate tariff costs. LightCounting's forecast assumes that the industry can weather this storm without suffering a significant impact, but some potholes are unavoidable, the firm adds.
Tags:  Optical transceivers
Visit:  www.lightcounting.com/marketupdate.cfm