9 November 2017
Veeco's Q3 revenue growth driven by continued recovery in MOCVD market
© Semiconductor Today Magazine / Juno Publishing
For third-fiscal 2017, epitaxial deposition and process equipment maker Veeco Instruments Inc of Plainview, NY, USA has reported revenue of $131.9m, up 15% on $115.1m last quarter and up 54% on $85.5m a year ago, marking the first full quarter of combined results for Veeco and Ultratech Inc of San Jose, CA, USA (which designs and makes lithography, laser-processing and inspection systems for the advanced packaging, front-end semiconductor and LED markets), which was acquired on 26 May.
Sales into the LED Lighting, Display & Compound Semiconductor markets have grown from $56.2m to $60m (45% of overall revenue) – about half of which is for the China blue LED market - driven by continued roll-out of metal-organic chemical vapor deposition (MOCVD) and Precision Surface Processing (PSP) systems into Europe, China and South-East Asia.
Sales into the Advanced Packaging, MEMS & RF markets contributed 17% of overall revenue, driven by Ultratech and PSP system sales for advanced packaging applications and continued sales of PSP systems for MEMS applications.
Scientific & Industrial markets contributed 25% of overall revenue, supported by shipments of AVE systems for optical coding and data storage applications.
The Front-end Semiconductor segment (formerly part of the Scientific & Industrial segment, before the Ultratech acquisition) contributed 13% of overall revenue, driven by the Ultratech laser annealing and AVE systems.
Geographically, 26% of revenue came from the USA (up from 18% last quarter), 13% from Europe, the Middle East & Africa (EMEA, down further, from 16%), and 49% from the rest of the world (up from 43%, driven mainly by sales into Malaysia and South Korea). Meanwhile, China fell from 23% to 12%. However, this excludes $28.5m in shipments of Veeco's new TurboDisc EPIK 868 gallium nitride (GaN) MOCVD system for which revenue recognition has been deferred to Q1/2018.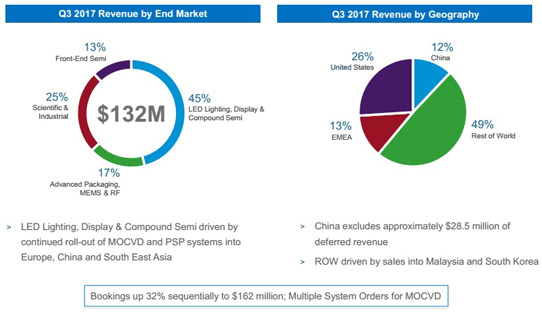 On a non-GAAP basis, gross margin has risen further, from 40.3% a year ago and 40.6% last quarter to 42.3% (above the 39-41% guidance), driven by a favorable product mix across many of the firm's product lines.
Operating expenses (OpEx) were $48.9m, up from $37.2m last quarter (reflecting the full-quarter impact from Ultratech) but slightly better than the $49-51m guidance.
Net income was $4.3m ($0.09 per diluted share), down from $6.4m ($0.15 per diluted share) last quarter but an improvement from a loss of $1.8m ($0.05 per diluted share) a year ago, and towards the top of the guidance range of between a loss of $4m ($0.09 per share) and a profit of $5m ($0.09 per share).
Cash flow from operations was $24.9m (up from $6.3m a year ago). During the quarter, cash and short-term investments rose by $18m, from $303m to $321m.
Order bookings in Q3/2017 were $162m, up 32% on $123m last quarter and up 37% on $118m a year ago. Growth was driven mainly by an increase in the LED lighting display and compound semiconductor markets, where Veeco received multiple system orders from LED makers in China, Korea and Europe for MOCVD systems in the EPIK, Propel and K475i family.
"We are seeing continued adoption of our K475i product into red, orange and yellow LEDs and photonics applications," says chairman & CEO John R. Peeler. "The photonics market, which includes VCSELs [vertical-cavity surface-emitting lasers] and lasers for optical communications, is growing rapidly and represents an exciting opportunity. We were engaged with multiple key customers and have recently achieved sales to a leading photonics company for the development of next-generation VCSELs and other lasers," he adds.
Hence, during the quarter, order backlog rose by $29m, from $270m to $299m.
"The integration of Ultratech into Veeco is proceeding extremely well with many key milestones now behind us," says Peeler. "All duplicative public company expenses have been eliminated, our sales forces have been successfully merged and our field service organizations have been integrated. As a result, we are even stronger than before, with the right staff in each region, focused on driving improved results," he adds.
"Our manufacturing consolidation initiative in New Jersey is largely completed," notes chief financial officer Sam Maheshwari. "We are realizing close to $4m in annualized synergies beginning towards the end of this quarter."
For fourth-quarter 2017, Veeco expects revenue to rise to $135-155m. "We are seeing robust demand in China for our MOCVD systems," says Peeler. "We are also seeing increased competition [targeting mainstream LED lighting applications]… as AMEC begins to ship systems. As a result, we are seeing some pricing pressure which will impact our gross margins," he adds. Gross margin is forecasted to fall to 39-41%. Operating expenses are expected to be $49-51m. Net income should be $0-7m ($0.00-0.16 per diluted share).
"Generally Q1 revenues are lower than Q4. However, due to strong backlog and deferred revenues at this time, we expect Q1 revenues to be higher than Q4," says Maheshwari. "Secondly, given the current competitive environment in MOCVD business, we may see gross margins temporarily in the 30-35% range as we move beyond this calendar year," he notes.
"We are continuing to win business in China despite increased competition, and we feel confident in our ability to maintain our lead as we execute on our technology and product roadmap," says Peeler. "During the quarter, we formally released our new MOCVD system, the EPIK 868, which provides a lower-cost and higher-productivity solution [doubling the capacity of the existing EPIK 700 by doubling the number of reactor modules to four]," says Peeler. The new system is "designed to meet the needs of our customers in China, demonstrating our long-term commitment to this important region," he adds.
"Overall, we expect calendar 2018 to be a growth year in revenues for us, despite MOCVD-driven gross margin pressure," says Maheshwari. "We expect operating income as a percentage of sales to be better in 2018 than 2017, due to operating leverage, synergy execution, new product releases and completion of certain initiatives," he adds.
Veeco ships new-generation EPIK 868 MOCVD systems to China for high-volume LED production
Veeco's Q2 revenue up 21% year-on-year organically
Veeco completes acquisition of Ultratech for $862m
Veeco's Q1 revenue up 21% year-on-year to $94.4m, driven by LED demand
Veeco's Q4 revenue grows 9% to $93.6m
Veeco's MOCVD sales double as display backlighting demand stabilizes and LED industry recovers
Veeco reducing investment in ALD technology after revenue realization delayed
Visit: www.veeco.com