16 November 2016
Aixtron returns to positive free cash flow in Q3, boosted by sales of AIX R6 system inventory
For third-quarter 2016, deposition equipment maker Aixtron SE of Herzogenrath, near Aachen, Germany has reported revenue of €51.2m, down 6.2% on €54.6m a year ago but up 50% on €34.1m last quarter (due to a scheduled increase in systems supplied).
Equipment sales were hence €40.6m (79% of revenue), down just 1.7% on €41.3m a year ago and up 64% on €24.7m (just 73% of revenue) last quarter. Sales of spare parts & services were €10.6m (21% of revenue), down on €13.3m a year ago but up from €9.3m last quarter.
On a regional basis, 72% of revenue came from Asia (up from just 44% last quarter), just 7% from Europe (down from 33%), and 21% from the USA (down from 23%).
The majority of AIX R6 MOCVD system inventory (for GaN LEDs) – which amounted to €19.3m at the end of September – was sold in Q3 (and will be shipped in the coming months). Also, throughout Q3 there were strong shipments of Planetary reactor systems particularly for red, orange, yellow (ROY) LED optoelectronics and power electronics. "We continue to be in a solid position in MOCVD outside GaN LEDs," notes president & CEO Martin Goetzeler. Also, Aixtron has completed one customer's qualification program for atomic layer deposition (ALD) tools for high-k oxide films; in Q3/2016 such silicon applications (including spares) comprised 25% of total revenue.
Gross margin has recovered further, from 20% last quarter to 33% (level with a year ago), due to a better product mix and higher sales volumes allowing for better utilization in production.
Operating expenses have risen from €18m last quarter to €20.4m, due mainly to currency impacts as well as increased R&D spending.
Earnings before interest, tax, depreciation and amortization (EBITDA) has improved from -€8.2m last quarter to -€0.4m (though still down on +€4.1m a year ago). The net result improved from ‑€11.1m (‑€0.09 per diluted share) last quarter to -€3.8m (‑€0.04 per diluted share).
Capital expenditure (CapEx) has rebounded from a low of €0.8m last quarter to €1.3m. Compared with ‑€20.7m last quarter (adjusted for acquisition effects), the positive free cash flow of €3m was due mainly to reduced operating losses and higher advance payments from customers (which rose from €24m at the end of 2015 to €41.3m at the end of this September, reflecting higher order backlog).
Cash and cash equivalents (including cash deposits with a maturity of more than 90 days) were €163.5m at the end of September, down from €209.4m at the end of 2015, due mainly to a negative net result of -€30.4m for the first nine months of 2016, payment of the second instalment of the agreed return of advance payments to China's largest LED maker San'an Optoelectronics Co Ltd, and an agreed milestone payment made in Q1/2016 for the purchase in April 2015 of PlasmaSi Inc of Fremont, CA, USA, which provides low-temperature silicon nitride plasma-enhanced chemical vapor deposition (PECVD) systems for the encapsulation of organic thin-films. However, cash and cash equivalents were up slightly from €161.3m at the end of June, due to Q3's lower operating losses and the higher advance payments received from customers. Aixtron has no financial debt.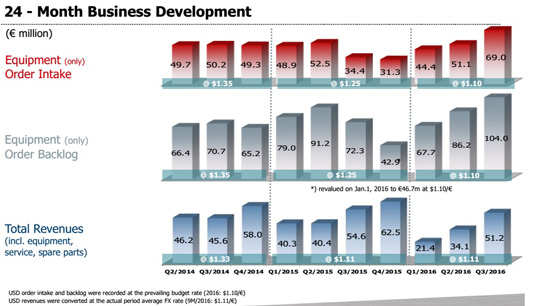 Increased demand for production systems for LED, telecom and optoelectronics applications (including low-margin sales of the AIX R6 inventory), as well as for the silicon industry, has driven growth in not only revenue but also orders. Total order intake in Q3/2016 was €69m, up 35% on €51.1m last quarter and doubling from €34.4m a year ago. Equipment order backlog has risen further, up by 21% from €86.2m last quarter to €104m. Total order intake as well as the respective equipment order backlog support management's expectation of revenue growth in Q4/2016.
"Despite a comparatively weak development in revenues in the first nine months of 2016, we have reiterated our 2016 full-year revenue guidance given in February, with slight adjustments for order intake and revenue," says Goetzeler. "This is due to solid order situation within recent months," he adds.
Based on revenue accrued in the first nine months of 2016 of €106.6m, plus expected spares & service revenue of about €10m in Q4/2016 and assuming that €63-83m of the €104m equipment order backlog will be converted into revenue in Q4/2016 (based on an internal budget rate of $/€1.10), for full-year 2016 Aixtron has narrowed its previous revenue guidance from €170-200m to €180-200m (compared with €197.8m in 2015). Order intake guidance for full-year 2016 has been raised from €180-200m to €200-220m (up from €167.1m in 2015), due mainly to the sale of AIX R6 equipment with surplus-level margins.
Depending on the successful completion of qualification processes, market entry efforts, as well as the achievement of revenue at the high end of the guidance range, management also expects another improvement in results for full-year 2016. Before transaction-related impacts, the firm's EBITDA, EBIT, net result and free cash flow should improve slightly from 2015 but remain negative, as expected revenue volumes continue to be too low to fully finance all of the products in the development pipeline.
Aixtron's management notes that, due to uncertainties in terms of investment requirements for certain product groups, potential restructuring costs or consequences from transactions (e.g. the takeover of Aixtron by China's Fujian Grand Chip Investment, for which the clearance certificate issued on 8 September by the German Federal Ministry of Economics and Energy was subsequently withdrawn in October), it is reviewing its 2017 EBITDA development.
Germany withdraws clearance of Grand Chip Investment's takeover of Aixtron
Aixtron's increased orders in Q2 herald recovery in second-half 2016
Aixtron agrees €670m takeover by Fujian Grand Chip Investment Fund
Aixtron's Q1 revenue hit by ongoing weak LED-related demand
Aixtron's revenue grows 14% in Q4 as diversification outweighs LED-related China loss
Aixtron's revenue grows 35% in Q3
Aixtron acquires PECVD-based OLED thin-film encapsulation firm PlasmaSi
Aixtron continues reorganization in 2015
Aixtron launches AIX R6 next-generation MOCVD system
China's San'an expands by ordering 50 Aixtron MOCVD systems
Visit: www.aixtron.com