3 December 2013
US LED and high-efficiency lighting market to grow at 10% annually through 2017
Supported by technological improvements and regulatory changes designed to lower electricity used in lighting applications, US demand for high-efficiency lighting is growing more than 10% annually, from $7.1bn in 2012 to $11.7bn in 2017, reckons market research firm Freedonia in its industry study 'LEDs & High Efficiency Lighting to 2017'.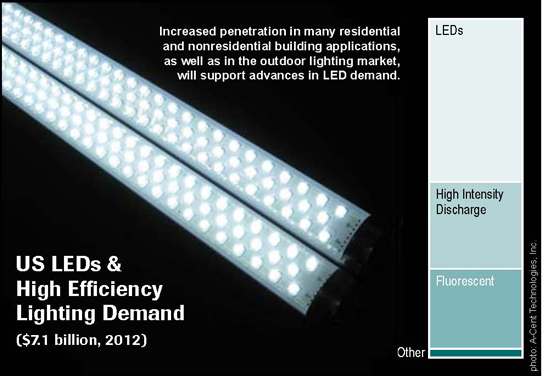 The US market for high-efficiency lighting continues to adjust to the provisions of the Energy Independence and Security Act (EISA) of 2007, which is leading to a phase-out of traditional incandescent lamps and supporting demand for products such as LEDs and compact fluorescent lamps (CFLs). Technological innovations that are improving the performance of LEDs and many types of high-efficiency lamps are also supporting demand. In addition, particularly in the LED segment, improvements in manufacturing are leading to lower purchase prices for many products, boosting market penetration for these efficient lighting products. However, because high-efficiency lighting products have much longer useful lives, the average replacement rate will decrease over time, eventually depressing high-efficiency lighting demand, notes Freedonia.
LEDs to be fastest-growing high-efficiency lighting
Demand for LEDs will grow the fastest of any high-efficiency lighting product through 2017, forecasts Freedonia. Increased penetration in many residential and non-residential building applications, as well as in the outdoor lighting market, will support advances, the firm adds. While the high initial price of LEDs has hindered their adoption in many traditional lighting applications, technological innovations that reduce costs and improve performance will make these products increasingly competitive.
The market for other energy-efficient linear fluorescent lamps will also register strong growth, supported by heightened penetration of T5 and T8 lamps, in place of less efficient T12 products. In addition, the rebound in non-residential building construction will provide some prospects, Freedonia reckons.
Building market to offer best growth opportunities
Through 2017, the building market for high-efficiency lighting products will post especially strong growth, supported by a shift to higher-value, longer-lasting lighting products and driven in part by rising efficiency standards for lamps, says the market research firm. Residential demand will be bolstered by the replacement of less efficient lighting that has been phased out due to the EISA. Businesses, institutions and government entities will turn to high-efficiency lighting products to lower their energy expenses and to reduce the labor costs of replacing lighting products. However, over the longer term, the market will be restrained by the longer service lives of LEDs and newer lamp products, which will limit replacement demand, concludes Freedonia.
Tags: SSL LEDs Lighting market
Visit: www.freedoniagroup.com