8 March 2012
GaN power electronics market may top $1bn in a few years
According to the report 'Power GaN – 2012 edition' from market research firm Yole Développement, the GaN power device sector probably generated revenue of less than $2.5m in 2011, as only two suppliers - International Rectifier Corp (IRF) and Efficient Power Conversion Corp (EPC), both of El Segundo, CA, USA - are selling products on the open market. However, overall GaN activity has seen extra revenues, as R&D contracts, qualification tests and sampling for qualified customers was extremely buoyant.
In the short term, IRF and EPC remain the two main vendors of GaN power devices in early 2012. The market is likely to stay below $10m for devices in 2012, with the rest being made through R&D sales.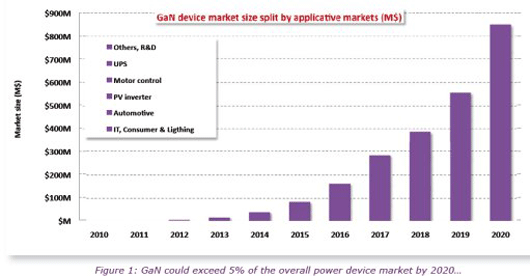 However, 2013 should signal the transition from qualification to production ramp-up for several new entrants, and the device market could reach $50m. In 2014, most of these new entrants will ramp-up their capacity, and by 2015 the availability and adoption of qualified 600V+ GaN devices should see the market grow rapidly and open up non-consumer applications, reckons Yole. In 2015, 12-15 players should consume more than 100,000 6"-equivalent epiwafers, the firm reckons.
"Beyond that, if GaN is qualified in the electric vehicle/hybrid electric vehicle (EV/HEV) sector, GaN device business could top $1bn and the GaN-on-silicon substrate market could exceed $300m by 2019," says Dr Philippe Roussel, Yole's business unit manager, Power Electronics. However, it is still unclear how car makers will choose between silicon carbide (SiC), GaN or established silicon technology.
Regarding substrates, R&D activities are still quite fragmented between several options, including GaN-on-sapphire, GaN-on-SiC, GaN-on-GaN, GaN-on-AlN and GaN-on-Si. Of these, GaN-on-Si is likely to take a dominant position, as 6" wafers are now available with GaN epilayers more than 7μm thick, and 8" wafers are under qualification. In particular, the availability of 8" diameter epiwafers is probably the parameter that will make GaN-on-Si the obvious choice.
The GaN power sector is attracting more newcomers, says Yole, which identifies five firms on the epiwafer side and more than six pure-play GaN device makers, as well as another 15 silicon-based power device firms developing GaN technology.
GaN power electronics cross-fertilizes with LED industry
A new trend is that LED players are now starting to look at GaN power electronics as a new business opportunity and investigating how to put in place a strategy of diversification to convert their existing excess LED fab capacity for power elecrtronics. However, Yole expects that this could cause some disturbance to the expected organic growth of the GaN industry.
The GaN power electronics business has always been interconnected with the LED industry, linked by technology and market dynamics. In the past, the premises of GaN epi technology stemmed from the LED industry, which brought the technology from the lab to mass production. Today, the extensive development of GaN-on-Si epiwafers has fertilized both the LED industry and the power device industry. Most epiwafer vendors are now targeting these two segments with dedicated products. In future, it is likely that some incumbent pure-play LED firms will enter the power electronics sector, using their excess fab capacity and existing tool-sets to make at least epiwafers or even power electronics devices.
Hence, says Yole, ultimately, talk will no longer be of 'LED' or 'power' sectors but of the 'GaN device industry' collectively, as the main players could well be the same.
A question of business model
Power device makers usually buy polished silicon wafers, conduct the epitaxial deposition (or buy silicon epiwafers) if necessary (although float-zone thin wafers do not require epitaxy) then process the devices. This model is roughly the same for SiC technology.
For those planning to enter the GaN field, there are two scenarios:
don't integrate metal-organic chemical vapor deposition (MOCVD) GaN epitaxy, but buy GaN epiwafers and process them in existing CMOS front-end lines, as with silicon (or SiC) substrates; or
fully integrate the GaN process, from bare silicon, through GaN epitaxy, to front-end wafer processing.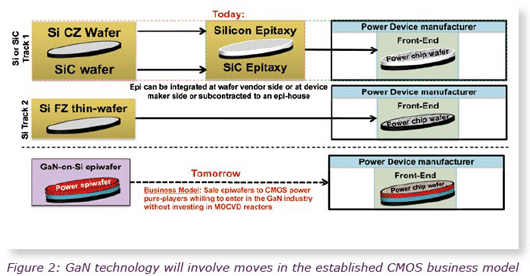 Yole says that its report 'Power GaN – 2012 edition' provides a complete analysis of the GaN device and substrate industry in the power electronics field (from epiwafer to final applications) along with key market metrics. In total, more than 65 companies are covered in the report.
GaN gaining traction in commercial applications
Next-gen power semiconductors to grow at CAGR of 72%
RF & power electronics opportunities for GaN market growth
Energy efficiency driving demand for power management ICs
GaN power device market to reach $350m in 2015
Tags: GaN power devices
Visit: www.yole.fr