News
21 October 2010
Solar Frontier to supply 3.3MW of CIS modules to Thailand's Gunkul Powergen
Tokyo-based Solar Frontier K.K., a subsidiary of Japanese energy business Showa Shell Sekiyu K.K., is to supply Gunkul Powergen Co Ltd with 3.3MW of its copper indium gallium sulfur selenium (CIGSSe, or CIS) thin-film photovoltaic solar modules (comprising 38,500 panels) for a power plant project coordinated by Marubeni in Phetchabun Province, northern Thailand that aims to sell electricity to the Provincial Electricity Authority of Thailand. The project is scheduled for completion by the end of 2010.
"This solar power plant is the first of a number of solar facilities Gunkul Powergen is planning in Thailand," says Gunkul Engineering's CEO Gunkul Dhumrongpiyawut. "The selection of Solar Frontier to supply all the panels for the first stage of this project reflects our confidence in the superior performance of its CIS modules," he adds.
"Thailand has year-round sunshine, which represents great potential for solar energy solutions, but also challenges in terms of heat and humidity that Solar Frontier proves well suited to meet," says Solar Frontier's CEO Shigeaki Kameda. "This agreement is part of the momentum we are building in Thailand and throughout Asia."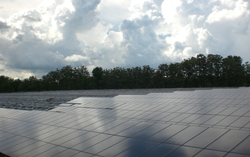 While Thailand introduced a feed-in-tariff and other programs in 2007 with the original aim of installing 500MW of solar energy systems by 2020, this goal is now predicted to be exceeded as early as 2012.
See related items:
Solar Frontier enters global CIS module supply agreement with GE

Search: Solar Frontier CIS module
Visit: www.solar-frontier.com
For more: Latest issue of Semiconductor Today