News
17 March 2010
Dowa presents 320–350nm UV LED samples
Japan's Dowa Electronic Materials is claiming to have "successfully developed practical applications for a deep ultraviolet LED that generates shorter wavelengths than the ultraviolet LEDs currently available on the market". The company is presently offering prototype samples emitting at wavelengths of 320–350nm with 1.4mW output power at 20mA current and is seeking to start mass production. Technically, the company also hopes to increase the output power and shorten the wavelength.
Dowa uses its own aluminum nitride (AlN) template grown on sapphire substrates. The company markets 50mm-diameter templates with an insulating 1μm AlN layer (Table 1).
Table: Specifications of Dowa AlN template.
Substrate:

c-plane sapphire

Crystal structure of AlN epi layer:

wurtzite

Diameter:

50.8 mm ± 0.25 mm (typical)

Thickness of substrate:

430 μm ± 25μm (typical)

Thickness of AlN epi layer:

1 μm ± 0.3μm (typical)

Surface:

c-plane AlN, as grown
effective area < 40 mmΦ (typical)
no cracks by a visual inspection.

Backside:

rough

FWHM of x-ray ω-scan rocking curve:

< 150 arcsec for (0002) (typical)

Conductivity:

insulating

Packing:

packaged fluoroware container
and vacuum-packed.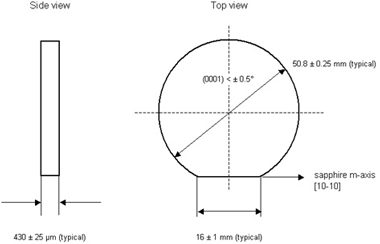 The nitride semiconductor epitaxial layers are grown using technology developed by Xerox' Palo Alto Research Center (PARC) in the USA and Japan's RIKEN government-funded independent research foundation (founded privately in 1917, reorganized by the state in 2003).
Dowa sees opportunities for UV LED application in resin curing, adhesion, drying, medical treatment, analysis, photo catalysis, water purification and sterilization. A particular attraction of LEDs is their more environment-friendly character when compared with UV mercury lamps. The economic factor of longer life is also attractive.
The company comments: "Because of a lack of suppliers able to mass-produce deep ultraviolet LEDs, the market is immature. However, if a supply system is established, we expect a market worth tens of billions of yen will emerge."
Dowa has an established gallium arsenide business producing red and infrared LEDs. It has also sought to enter the nitride semiconductor sector. Its first products were high-electron-mobility transistors (HEMTs) for mobile network base-station transmission power amplification and for power electronics. The UV LED samples are the second nitride semiconductor sector for Dowa.
Other companies also produce UV LEDs. Nichia has a range of products on offer down to 365nm (up to 3mW output power at 20mA). Sensor Electronic Technology (SET) markets products in the 240–400nm range. Recently, SET reported 30mW output power from a single 273nm chip at 700mA. At the International Conference on Nitride Semiconductors (ICNS-8) in October 2009, SET presented a 247nm LED with an output power of 6mW at 300mA.
See related items:
Increased UV power from diamond LEDs enables E. coli sterilization
Multi-quantum blocking raises deep-UV LED efficiency
Improving deep UV emission on aluminum nitride templates
Deep ultraviolet power boost at shorter wavelengths
SET claims record performance for large-area single-chip deep UV LEDs
UV LED market to grow to $250m in 2015
Visit: www.dowa.co.jp
Visit: www.parc.com
Visit: www.riken.go.jp
Visit: www.nichia.com
The author Mike Cooke is a freelance technology journalist who has worked in the semiconductor and advanced technology sectors since 1997.