News
9 February 2010
Sapphire faces shortage in second-half 2010, to be resolved in early 2011
The market for sapphire materials for electronic applications will exceed $200m in 2010 despite the economic downturn, according to market research firm Yole Développement in its updated study 'Sapphire 2010 report' (which gives a forecast through to 2013).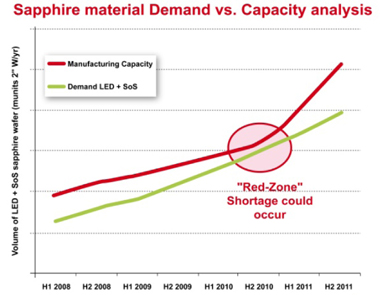 Sapphire products serving two main applications in the electronics field: gallium nitride (GaN)-based LEDs and RF devices ('SoS' silicon-on-sapphire technology), both for mobile phones. In 2009, the sapphire substrate market for electronic applications reached about 9 million wafers (2-inch equivalent) for LEDs, augmented by tens of thousands of 6-inch and 8-inch wafers for SoS RF applications.
In particular, in the LED segment, despite 2009's economic circumstances, the market for c-plane sapphire wafers grew 4% in 2009, thanks mostly to LED-backlight applications for liquid-crystal displays (LCDs). On the other hand, r-plane sapphire business for SoS applications has been strongly affected by the recession, as the main application markets are related to consumer appliances (mainly mobile phones). As a result, a 55% drop in revenue has been seen for r-plane sapphire wafers.
The price of 2-inch sapphire is as low as ever. However, the risk of a shortage could generate turbulence. Price pressure on 2-inch sapphire remains critical, and Yole's models show that most suppliers have tiny margins on the material, with some even losing money on 2-inch business. The price level, especially in Taiwan, was extremely low in 2009, and the psychological $10 threshold has probably been reached.
Yole hence forecasts a price increase of about 5% across the board in 2010. However, it will be unevenly distributed through the different diameters. Yole expects the 2-inch price to rise by up to 40%, whereas the price for 3-inch and 4-inch sapphire should remain stable compared to their low of 2009 and actually decrease by 20% compared to their average selling price (ASP) through 2009, explains project manager Dr Philippe Roussel.
Indeed, Yole's demand–capacity analysis shows a shortage 'risk-zone' that should occur during second-half 2010, where not all the planned capacity will be fully installed, in the face of demand for LEDs that can create some turbulence. However, Yole says that it now feels comfortable saying that this stress period should end in early 2011 with the full production ramp-up of sapphire producers.
See related items:
Sapphire substrate maker Rubicon details capacity expansion plans
Sapphire substrate market to grow at 21% to $400m by 2012

Search: Sapphire substrates GaN SoS
Visit: www.yole.fr