News
15 April 2010
Green laser diode market $500m by 2016 as pico-projector market drives growth
The market for direct- and indirect-emitting semiconductor green laser diodes will reach about $500m in 2016 (representing more than 45 million devices), according to market research firm Yole Développement in its new report 'Green Laser for Projection Devices, 2010'.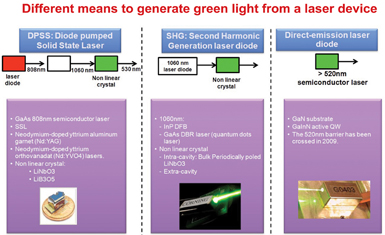 The green laser market is currently highly segmented into many niche applications, from medical to military as well as laser shows etc. These applications can use existing solid-state lasers or the more recent combination of semiconductor lasers with nonlinear crystals (via SHG, or second-harmonic generation).
In the emerging market for pico-projectors as well as other display techniques such as head-mounted display (HMD) or head-up display (HUD), the ideal light-emitting device would be a laser due to the capability to deliver highly saturated colors in the widest possible gamut. Additional features include focus-free operation and an expected improvement in wall-plug efficiency (reducing power consumption for battery operation). Yole adds that the market for green lasers in particular will be driven by pico-projectors, due to the laser's ability to deliver highly saturated colors in the widest possible gamut.
In 2009, the first LED-based pico-projectors became available on the market. However, market take-off was slow (with no more than 300,000 units sold) due possibly to poor brightness (10 lumens) for a relative high price. Nevertheless, the stand-alone projector market will take off in 2010, with a sales volume of 0.5–1 million units, forecasts Yole. During this first phase, most pico-projectors will be LED-based.
However, last year some impressive progress was reported on shifting blue laser diodes towards green wavelengths. The direct-emission semiconductor laser should hence be available in 2011–2012 for projection display applications. Yole therefore forecasts that 10–20% of projectors will be laser-based by 2011 and 50–75% by 2016. Yole also envisions a move from stand-alone devices to embedded devices as the technology will step-by-step become compatible with size and cost constraints.
The cell-phone market will also start using green lasers in late 2010 in high-end devices (Samsung 'Android' etc), says Yole. Laser-based systems will be slowly implemented as costs reduce, but Yole remains very conservative, saying that LEDs remain dominant until at least 2016. However, according to the requirement for small size, direct-emission green laser will be much in demand.
Media players are the perfect application for embedded pico-projectors, says Yole, with fewer constraints on cost and size compared to the cell phone. The boom in demand should occur by 2012, with 2.6–5 million units equipped with projection functionality, forecast the firm. SHG green lasers will dominate first, forecasts Yole, during the wait for direct-emission green lasers to become compatible on price and performance.
Cameras and camcorders are forecast to offer only slow market penetration for laser-based technologies, as battery life-time and cost can be critical parameters. LED technology should dominate in these applications, believes Yole market & technology analyst and report co-author Regis Hamelin.
Laptop computers represent probably the most unclear segment for green laser applications, says Yole, as it is hard to predict consumer behavior accurately: will they go for an all-in-one solution (PC plus projector) with an embedded projection device that will probably be less efficient than a desktop projector? Yole says that it remains very conservative on this application.
Currently, only SHG green laser diodes are available on the market. Corning, Osram and QD Laser each have proprietary solutions. "However, given the complex package of these lasers, it seems difficult to reach a reasonable target price. Moreover, these components seem to suffer from a shortage," explains Yole project manager Philippe Roussel (the report's other co-author).
Japan's Sumitomo Electric Industries (SEI), Kaai (a spin-off of University of California Santa Barbara) and Germany's Osram Opto Semiconductors are the most advanced players for direct-emission green laser diodes. If performance can meet the minimum requirements for optical power, wall-plug efficiency and lifetime, some of these could offer products in limited quantities as soon as the middle of 2011, says Yole.
The battle over direct-emission green sources will also take place at the substrate stage, where gallium nitride (GaN) crystal of both non-polar and semi-polar orientations can play a positive role in green light emission, comments Yole.
The light-engine module — a combination of a light source and image management (LCD, micro-mirrors, LCOS etc) — is expected at a target price of $40, notes Yole. This implies a price target of $10 per color. Red should not be a problem, but GaN blue lasers have not yet reached that price target despite their maturity. Green laser will also have to be in the $10 range to penetrate the market, comments the firm.
Yole also cautions that LEDs and high-brightness HB-LEDs are serious competitors, since some pico-projectors have already been announced with a brightness of up to 30 lumens. The capability of lasers to deliver bright images therefore becomes less 'unique'. So, if green and blue lasers from GaN-based materials are not delivered in the expected target price range, the market share for green lasers could be limited to high-end products, the firm concludes.
See related item:
Market for embedded pico-projector modules to exceed $1bn

Search: Green laser diode Pico-projector GaN
Visit: www.yole.fr