News
24 September 2009
SiC electronics needs transistor stimulus
The market for silicon carbide (SiC)-based electronic components may reach $800m ten years from now – but only if commercial transistors based on the wide-bandgap semiconductor enter the market soon, according to a new report from analyst company Yole Développement.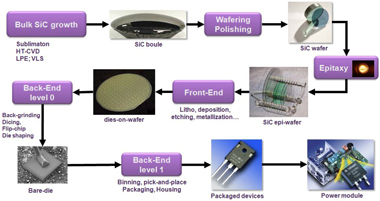 Picture credit: Yole Développement.
In it, author Philippe Roussel suggests that SiC devices can attack a total addressable market worth $2.6bn, part of the overall power semiconductor device market that is estimated at $12bn.
SiC chips have made some inroads into that market already – particularly in switched-mode power supply units. But because of the high costs involved, Roussel now forecasts that, even by 2019, only 4% of the market for silicon-based discrete devices in power applications will be replaced by SiC.
Key to any market development will be the availability of a robust, commercially viable SiC transistor. Based on recent announcements from the likes of US-based Cree, Sweden's TranSiC and the Japanese firms Rohm and Mitsubishi, Roussel is confident that next year will see the emergence of just such a device.
However, the delayed introduction of SiC transistors will likely mean that high-voltage applications will not begin to take off until 2014, Roussel predicts. "No [SiC] switch has reached large-volume production yet and car makers are still improving silicon IGBT [insulated-gate bipolar transistor] technology," he said.
According to the same report, the merchant market for all types of SiC substrates, including n-type and semi-insulating material, was worth about $48m in 2008. The figure does not include the captive supply, which Cree dominates with its production of high-brightness GaN LEDs. Roussel anticipates the merchant SiC substrate market to be valued at about $300m by 2019.
"Cree remains ahead of the competition, but its relative market share on the open market is shrinking as II-VI, SiCrystal and several new entrants are gaining momentum in the substrate battle," claimed Roussel, citing new companies such as TankeBlue in China and N-Crystals in Russia as a potential threat to the established suppliers.
His prediction of an $800m SiC device market in 2019 also relies on substantial progress being made on wafer prices and, in particular, the epitaxy stage in device fabrication. Current progress on increasing wafer sizes is encouraging, Roussel added: "4-inch wafers are now at full production at Cree and in [the] final qualification phase at II-VI, Dow Corning and Nippon Steel. 6-inch [wafers are] already announced by 2010, and will definitely accelerate the cost reduction."

Search: SiC SiC transistors
Visit: www.yole.fr