News
27 March 2009
Seoul Semiconductor supplies red and blue LEDs for agricultural lighting project
South Korean LED maker Seoul Semiconductor Co Ltd says it has supplied Z-Power red and blue LEDs to an unnamed lighting fixture company in Japan for an 'LED Farming Demonstration Project', which has been organized by Japan's minister of Economy, Trade & Industry.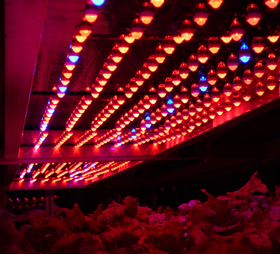 According to the firm, the aim of the project is to demonstrate the use of LEDs as an artificial light source for growing plants. Over three hundred thousand LEDs have been supplied for the project so far.
Picture: Red and blue LEDs used for agricultural purposes.
By participating in the project, Seoul Semiconductor says it has strengthened its position in the Japanese market, as well as the market for LED lighting for agricultural purposes. In the past, incandescent lamps, fluorescent lamps and sodium lamps have been used as artificial light sources for agriculture, but LEDs are now becoming a popular lighting source because of their high efficiency and long lifespan. Seoul Semiconductor adds that it has already supplied LEDs for agricultural lighting in Canada.

Search: Seoul Semiconductor Z-Power LEDs
Visit: www.acriche.com