News
3 July 2009
First US public community college joins Cree's LED University program
LED chip, lamp and lighting fixture maker Cree Inc of Durham, NC, USA says that Illinois' Joliet Junior College (JJC) is joining its LED University program.
Launched in April 2008, the LED University initiative is an international community of universities working to evaluate, deploy and promote the adoption of energy-efficient LEDs across their infrastructures (in areas such as offices, student housing, parking garages, walkways and streets). The aim is to save energy, protect the environment, reduce maintenance costs, and provide better light quality for improved visibility and safety. Joliet Junior College joins inaugural participant North Carolina State University as well as University of California at Santa Barbara, the University of Arkansas, Marquette University, the University of Notre Dame, University of California, Davis, the University of Miami, the University of Alaska at Anchorage, and Madison Area Technical College (MATC) in the USA, as well as Tianjin Polytechnic University in China.
Joliet Junior College officials recently renovated 12 restrooms on campus, replacing compact fluorescent and tube fluorescent fixtures with Cree's LR6 six-inch LED recessed lights. Energy consumption was reduced by 50%, from 3384W to 1692W. A total cost-of-ownership analysis by JJC shows an expected saving of more than $53,000 over the estimated 25-year life span of the LED fixtures.
"We wanted to start with a single application as we evaluated the benefits of switching to LED lighting," says Patrick Van Duyne, JJC's director for facility services. "We anticipate that the drastically lowered maintenance costs, coupled with the reduction in energy usage, means real savings; we no longer budget for disposal costs or for changing light bulbs frequently," he adds. "We plan to move forward with LED lighting in additional restroom renovations and other applications, like dining areas and parking lots."
"JJC energy officials have taken a practical approach to evaluating and deploying LED lighting, realizing significant energy and maintenance cost savings now, and anticipating larger savings as energy and labor costs are expected to rise over the next few years," says Cree LED programs manager Deb Lovig. "Although the initial evaluation was relatively small, cutting energy use in half and the potential to save close to $53,000 produced the business case for expanding efforts."
Cree's CEO discusses LED lighting with Obama
On 2 July, Cree's chairman & CEO Chuck Swoboda and seven other CEOs representing American companies at the forefront of energy-efficient technologies joined President Obama at the White House in a roundtable discussion on areas such as clean energy (including LED lighting) and the potential benefits to the US economy.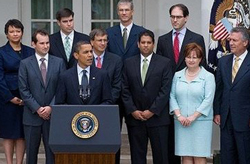 "It's men and women like these who will help lead us out of this recession and into a better future," said Obama afterwards. "My job – and our job as a government – is to do whatever we can to unleash the great generative powers of the American economy by encouraging their efforts. And when you hear the innovation that's taking place – everything from LED lighting that can save a huge amount on energy costs to new concrete materials….that gets you excited about the future," he added.
"With President Obama's support and the current momentum surrounding energy efficiency and sustainability, there are unprecedented opportunities for US companies like Cree to deliver innovative technologies and products to address our current energy challenges," said Swoboda. "22% of US electricity is used for lighting, and the widespread deployment of LED lighting can reduce this by more than 60%."
See related items:
Universities of Miami and Alaska join Cree LED University program
UC Davis joins Cree's LED University program

Search: Cree LEDs LED University program
Visit: www.cree.com
Visit: www.leduniversity.org
Visit: www.jjc.edu