News
26 August 2008
Sony claims record-power 7.2W 635nm red laser array
At the 69th Autumn Meeting of the Japan Society of Applied Physics at Chubu University in Nagoya, Japan next week (2–5 September), Tokyo-based Sony Corp will present the development of a high-power, short-wavelength red laser array diode incorporating a 2.5cm heat sink, making it suitable for use as a light source in projection devices.
For red semiconductor laser array diodes to be used in projection devices, they need to deliver high brightness, high efficiency and room temperature operation. The laser array diode achieves an oscillation wavelength of 635nm, generating brightness levels 1.6 times that of conventional 645nm red semiconductor laser arrays (developed by Sony in 2005), according to the firm.
The laser array consists of 25 broad stripe lasers. The laser bars are 10mm long each and mounted on a copper heat-sink block. Sony says that it has achieved optimum uniformity within the laser active layer, high crystal purification levels, and a high concentration of magnesium doping within the aluminium indium phosphide (AlInP) cladding layer to realize low threshold currents and improved laser characteristics. Also, by introducing new die bonding technologies for attaching the laser array and heat sink, Sony says that it has enabled high levels of heat dissipation from the laser array. Furthermore, the accuracy of the laser bar mounting process has been improved to provide enhanced coupling efficiency between the laser array and the optical devices.
As a result of these developments, the new red laser array combines a wavelength of 635nm, optical power of 7.2W, energy conversion efficiency (wall-plug efficiency) of 23%, and operation within 25°C room-temperature conditions. Low heat generation due to the laser array's high energy conversion efficiency means that only a small cooling system is required. The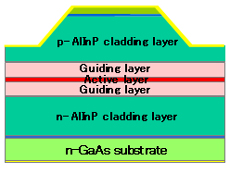 operating current is 14A and the operating voltage is 2.2V.
The heat dissipation and optical features enable the laser to be incorporated easily into the design of projection devices, Sony says.
Picture (right): Laser structure.
Picture (left): Laser characteristics.
Search: Sony Red laser diode
Visit: www.sony.net