Company profile
Aixtron SE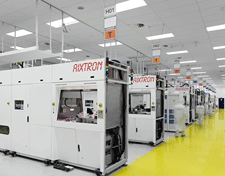 AIXTRON is a global leading manufacturer of advanced equipment for the deposition of compound, silicon, or organic semiconductor materials, as well as for Carbon Nanotubes (CNT), Graphene and other nanomaterials. AIXTRON reactors are the world's most widely used production tools for large-scale semiconductor and compound semiconductor production. They enable efficient manufacturing with lowest cost of ownership and have a proven track record of innovation and productization for almost 30 years.
Image (right): AIXTRON Production Facilities, Germany.
Founded in 1983 the AIXTRON Group has established a worldwide service and distribution network with strong field offices, and is committed to customer satisfaction.
Image (below): AIXTRON R&D Center, Germany.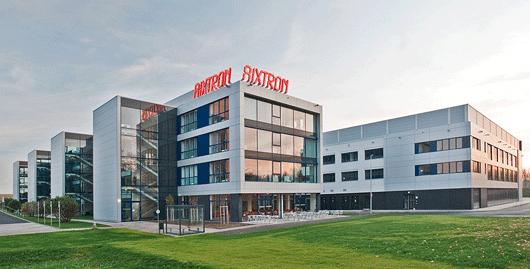 Compound Semiconductors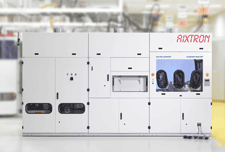 The AIXTRON MOCVD product portfolio includes the Planetary Reactor® and Close Coupled Showerhead® technology, as well as Hot-Wall systems for high-temperature applications and R&D systems. AIXTRON delivers systems for mass production as well as systems for research and development.
Image (left): IC2 System – AIX G5 HT.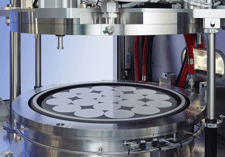 Various options are available, such as in-situ measuring tools for analysis of surface temperature, curvature and growth rate of wafers; automated transfer modules and fab integration solutions (MES).
Image (right): CRIUS® II-XL Reactor – 19x4"
Silicon Semiconductors
Atomic Level SolutionS®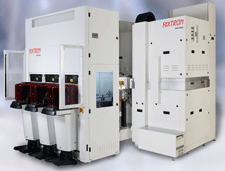 AIXTRON offers a wide spectrum of deposition technologies to the advanced semiconductor and compound semiconductor industries: Atomic Layer Deposition (ALD), Chemical Vapor Deposition (CVD) and Metal Organic CVD (MOCVD). In addition, the AIXTRON multi-wafer ALD system (QXP-8300) provides high throughput, low Cost of Consumable (CoC) and low Cost of Ownership (CoO) for high volume manufacturing process of ALD high-k, ALD Metal Nitride and ALD GST processes for memory, logic and high power applications. The unique proprietary TriJet® vaporizer integrated with the Close Coupled Showerhead® for pulsed direct liquid injection of various low vapor pressure metal-organic precursors enables the deposition of multi-component materials with excellent composition control.
Image (above, left): QXP-8300 High Throughput ALD.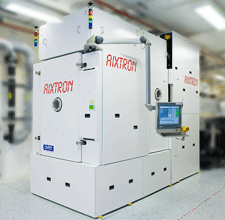 Organic Semiconductors
AIXTRON combined its proprietary Close Coupled Showerhead® (CCS) with the Organic Vapor Phase Deposition (OVPD®) and Polymer Vapor Phase Deposition (PVPDTM) technologies to accommodate mass production requirements. In collaboration with Universal Display AIXTRON has developed and qualified OVPD® production tools addressing the requirements of OLED manufacturing. AIXTRON's PVPDTM equipment enables the production of organic electronics based on polymer devices e. g. flexible E-paper displays. AIXTRON today offers OVPD® and PVPDTM equipment for mass production as well as for R&D and pilot production.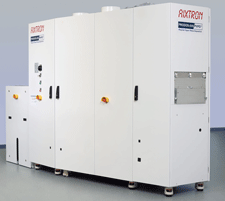 Image (above): Gen2 OVPD® Production System.
Image (right): PRODOS PVPDTM System.
Nanotechnology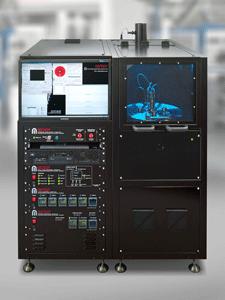 AIXTRON's product portfolio includes equipment based on AIXTRON Nanoinstruments "BM" technology. These fully automatic systems can operate in both, thermal CVD and plasma enhanced CVD modes. This is highly important for carbon nanomaterials as it enables our equipment to produce virtually all variations and morphologies of carbon nanotubes, nanofibers and graphene.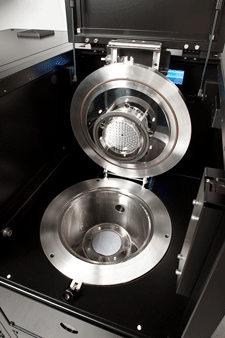 Image (left): BM System.
Image (right): BM Reactor Chamber.
For the deposition of III-V and II-VI semiconducting nanowires, systems based on Close Coupled Showerhead® technology or Horizontal Flow reactor technology are used. These systems are capable of producing nanowires with sharp material transition interfaces along its axis, as well as coaxial nanowires.
Contact Details:
AIXTRON SE
Dornkaulstr. 2,
52134 Herzogenrath
Germany
Tel: +49 2407 9030 + 0 or individual extension
Fax +49 2407 9030 + 40 or individual extension