29 October 2019
Marktech introduces broadband hybrid silicon-InGaAs photodetectors
Marktech Optoelectronics Inc of Latham, NY, USA, a designer and manufacturer of standard and custom optoelectronics components and assemblies – including UV, visible, near-infrared (NIR) and short-wave infrared (SWIR) emitters, detectors, indium phosphide (InP) epiwafers and other materials – has announced the global market introduction of its Models MT03-041 (TO-5) and MT03-047 (SMD) broadband hybrid silicon-InGaAs (indium gallium arsenide) photodetectors.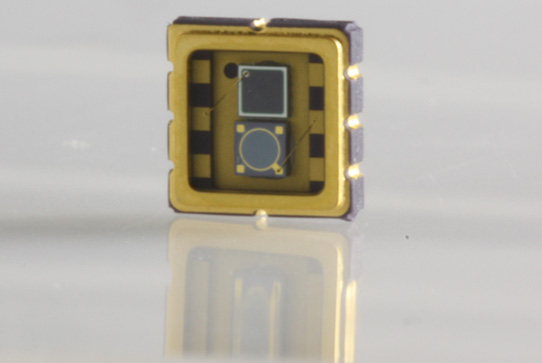 Marktech says that the industry-exclusive design of the MT03-041 and MT03-047 ensures versatile, accurate, reliable broadband detection over spectral ranges from UV-to-VIS-to-SWIR, with 250nm (UV) to 1750nm (SWIR) enhanced sensitivity. This wide dynamic range includes 365nm blue-green enhanced silicon-based and 1300nm InGaAs-based detection, respectively; ultra-low-noise measurement performance; and high shunt resistance. The detectors are seamlessly integrated within a single, compact through-hole or SMD package. They are also both REACH and RoHS compliant.
Typical applications for the broadband hybrid silicon-InGaAs photodetectors include medical, industrial, high-speed communications, security and spectroscopy.
Small-to-medium-sized quantities of standard Models MT03-041 (TO-5) and MT03-047 (SMD) are typically available with 24-hour shipment from stock via Marktech's global distribution partner Digi-Key Electronics. Optional accessories for the MT03-041 (TO-5) and MT03-047 (SMD), also available from Marktech, include UV-to-IR-to-SWIR range emitters. Each emitter may be mechanically and spectrally matched, then combined with the photodetector as a single, compact package. Custom designs may be produced in as few as 6-8 weeks from customer prototype approvals.
Tags: Marktech Optoelectronics
Visit: www.marktechopto.com