2 July 2019
pSemi's chairman & CTO Cable to spearhead Murata's semiconductor R&D growth plans
pSemi Corp of San Diego, CA, USA (formerly Peregrine Semiconductor Corp) – a fabless provider of radio-frequency integrated circuits (RFICs) based on silicon-on-insulator (SOI) – says that its chairman & chief technology officer Jim Cable has been selected by parent company Murata to spearhead its semiconductor R&D growth plans. He will continue as chairman of pSemi and as global semiconductor R&D director for Murata Manufacturing but with a more specific mission. He will report directly to Norio Nakajima, senior executive VP & board member for Murata Manufacturing.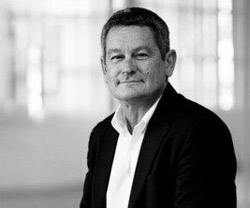 Picture: pSemi's chairman Jim Cable, now also global semiconductor R&D director for Murata.
Cable joined Peregrine in October 1993 and was quickly promoted to CEO and chairman of its board of directors, where he championed its acquisition by Murata Manufacturing Co Ltd. Murata designs and manufactures ceramic-based passive electronic components and solutions, communication modules and power supply modules. With employees and manufacturing facilities worldwide, Murata is developing electronic materials and multi-functional, high-density modules. Peregrine was purchased to provide the technology expertise necessary to further market penetration and add additional semiconductor technology to Murata's line of products.
"Jim has been a trusted expert and advisor to both Murata and me personally for years," comments Norio Nakajima, senior executive VP & board member for Murata Manufacturing. "We have now tasked him with turning that expertise over to the larger semiconductor environment to support Murata's semiconductor growth efforts."
Cable has a Master of Science and Ph.D. from University of California, Los Angeles (UCLA), and he has been listed on over 70 semiconductor and technology patents. "As the founders of RF SOI, I am encouraged that this technology is finally moving into the mainstream," he adds. "In my new position, I will explore an even wider swath of technology to help identify new ways to support Murata in its semiconductor growth initiatives."
Tags: Peregrine CMOS SOI Murata
Visit: www.psemi.com