16 November 2017
Midsummer and Tarpon win MTI Technology award for flexible solar cells integrated into tarpaulins and canvases
© Semiconductor Today Magazine / Juno Publishing
Together with Midsummer AB of Järfälla, near Stockholm, Sweden – a provider of turnkey production lines for manufacturing flexible, lightweight copper indium gallium diselenide (CIGS) thin-film photovoltaic (PV) solar panels – Norwegian tent cloth company Tarpon Solar AS has developed flexible tarpaulins and canvases into which integrated solar cells have been laminated into the screen. The flexible fabrics enable industrial halls, temporary structures and tents, for example, to produce energy.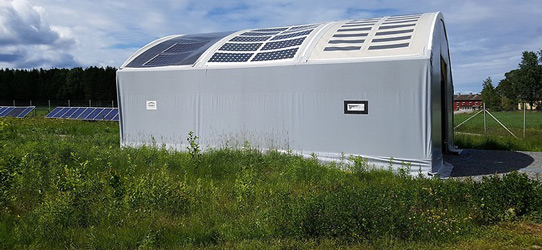 For this solution, Midsummer and Tarpon have now won the 1st place in the Technology and Innovation Competition MTI Technology award (a competition for new and established companies with a business concept in technology).
"Each cloth is made for the purpose it will be used for, so the amount of fabric and type of fiber and layer vary," says Tarpon's technical manager Marius Borg-Heggedal. "The solar cells are integrated in the production itself and become part of the material."
Tarpon develops canvases for large outdoor structures such as sun shading and stages. It has now designed a laminated fabric with stable, static structures that do not extend, and it realised that this material has the properties needed to integrate with Midsummer's thin-film solar cells.
"Being able to produce renewable energy in a canvas opens up so many different applications around the world," says Midsummer's project manager Mattias Dahlberg.
Tarpon uses Midsummer's thin-film solar cells as they are light enough, flexible and robust for the purpose. With the technology used, very light canvases can be produced. With integrated solar cells (producing about 120W/m2), the weight is almost the same as with conventional PVC material, and the canvas is also stronger and more durable, says Tarpon.
Tags: CIGS Thin-film PV
Visit: www.midsummer.se