24 November 2017
Samsung acknowledges Infineon for outstanding quality in supplying LNAs
© Semiconductor Today Magazine / Juno Publishing
Samsung Electronics of Seoul, Korea has honored Infineon Technologies AG of Munich, Germany with its Quality Award in the semiconductor supplier category for second-quarter 2017, for delivering low-noise amplifiers (LNAs) of "outstanding quality" for the Samsung Galaxy smartphone series.
"Infineon has contributed for quality improvement and customer satisfaction throughout continuous effort and cooperation with Samsung," comments Kim Kyeongjun, executive VP of the Global CS (Customer Satisfaction) team at Samsung Electronics.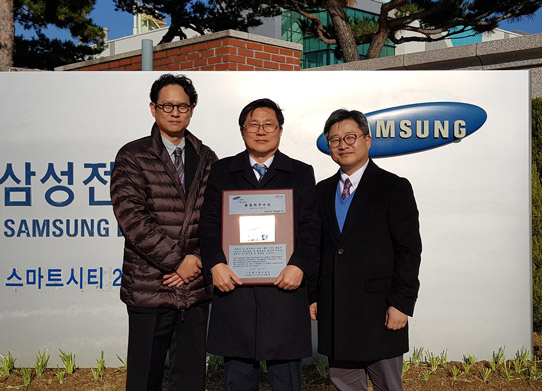 Picture: Yoo Jaesang, manager of Infineon Korea's Quality Management team; Lee Seungsoo, managing director of Infineon Korea; and Kim Jongsu, director of Infineon Korea's Samsung Global Account team (from left).
Samsung Electronics' Mobile Division assigns the Quality Award quarterly to its suppliers in four categories: Electricity, Instrument, Semiconductor and Application. Infineon supplies radio frequency (RF) switches, LNA multiplexer modules (LMM), antenna tuners as well as LNA and security chips for Galaxy smartphones.
During the ceremony at Samsung Electronics' Gumi Plant, the award was accepted by Lee Seung Soo, managing director of Infineon Technologies Korea, who adds that Infineon is contributing to Samsung's smartphone systems in terms of enhancing the data rate, reducing power consumption and occupying less space.
Tags: Infineon
Visit: www.infineon.com