24 November 2017
CSC wins Research and Collaboration title at 2017 TechWorks Awards
© Semiconductor Today Magazine / Juno Publishing
The Compound Semiconductor Centre (CSC) - a joint venture founded in 2015 between Cardiff University and epiwafer foundry and substrate maker IQE plc of Cardiff, Wales, UK - has won the Research and Collaboration title at the inaugural awards ceremony of TechWorks (the new UK industry association for 'deep tech', i.e. the underpinning technologies such as artificial intelligence, robotics, 5G, machine vision, Internet-of-Things, analytics and automation that are driving the new economy).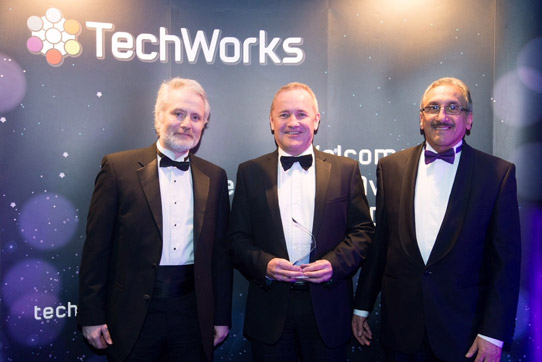 Picture: Rob Harper of the Compound Semiconductor Centre receives the 2017 TechWorks Research and Collaboration Award.
Sponsored by the Science & Technology Facilities Council (STFC), the award was presented by the BBC's technology correspondent Rory Cellan-Jones during a gala ceremony in London in recognition of the multiple collaborative R&D program wins, positioning South Wales as a location for the development, innovation and manufacture of compound semiconductor-related products.
Recent R&D programs include Project SUPER8, a £1.1m collaborative R&D project under UK Government agency InnovateUK's recent Emerging and Enabling Technologies Call, which focuses on the development of new ultra-high-speed transceiver platform to service the enormous growth market in optical data communications in hyper-scale Cloud data centers, and Project CS MAGIC (Compound Semiconductor MAGnetic Integrated Circuits), which focuses on the development of new ultra-sensitive magneto-sensors with integrated electronics.
The STFC-sponsored category celebrates innovative R&D activity involving strong industry and academic collaboration and completed within the last two years. CSC has demonstrated "world beating" technology development, with very high potential of being adopted by industry, according to the citation.
"Collaboration is the DNA of the Compound Semiconductor Centre (CSC), enabling a wide range of business and academic partners to develop new compound semiconductor-based technologies from prototyping through to commercial realization," says CSC director Dr Wyn Meredith. "Recent collaborative R&D programs won by CSC demonstrate the high level of compound semiconductor technology activities in South Wales and provide an important milestone towards the establishment of the world's first CS Cluster, based in the region," he adds.
InnovateUK awards project to CS MAGIC consortium
IQE and Cardiff University win Economic Impact title at Business and Education Partnerships Awards
InnovateUK awards £1.1m to SUPER8 project to develop 200G 8-channel CWDM transceiver for hyper-scale cloud data-centers
CSC formally launched as first compound semiconductor cluster
IQE and Cardiff University establish JV to develop and commercialize compound semiconductor technologies in Europe
Tags: IQE
Visit: www.techworks.org.uk
Visit: www.compoundsemiconductorcentre.com/projects