20 March 2017
Source Photonics demos fully integrated 400GBASE-FR8 OSFP module based on 25Gbaud PAM4 technology
In booth #3011 at the Optical Fiber Comminications trade show (OFC 2017) in Los Angeles (21-23 March), Source Photonics Inc of West Hills, CA, USA, which provides optical transceivers for data-center and broadband access connectivity, is giving what it claims is the first demonstration of a fully integrated 400GBASE-FR8 OSFP module, representing the first duplex single-mode fiber module with a form factor capable of supporting a 12.8Tb/s 1RU switch.
The 400G OSFP module represents a four-fold improvement in faceplate density over existing 3.2Tb/s switches supported by 100G QSFP28 LR4, CWDM4, and PSM4 modules. It integrates eight transmit and receive channels, each operating at 50Gbps using 25Gbaud PAM4 modulation on both the electrical interface and the optical interface.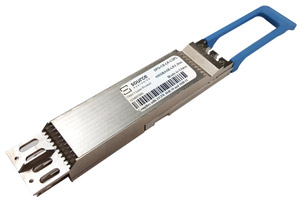 Picture: Source Photonics' 400GBASE-FR8 OSFP module.
The initial demonstration will consist of an OSFP chassis with integrated 8-wavelength transmitter optical sub-assembly (TOSA) and receiver optical sub-assembly (ROSA) reference components, operating in electrical loop back through the OSFP connector with a display of the eight transmit wavelengths on an optical spectrum analyzer. The initial prototype has been enabled by the development of a compact TOSA housing all eight electro-absorption modulated lasers (EMLs) and wavelength multiplexing optics, as well as development of a compact ROSA package housing eight photodiode (PD) chips, transimpedance amplifiers (TIAs) and wavelength de-multiplexing optics.
"We have been able to extend our industry-leading small-form-factor wavelength integration platform of the highly successful QSFP28 from four wavelengths to eight wavelength for these new 400G optics," says lead designer Patrick Cui. "Coupled with rapidly maturing 25Gbaud PAM4 electronics, Source Photonics is well positioned to lead the industry in small-form-factor 400Gbps optical deployments," he reckons.
"We aim to develop solutions that help operators deploy revolutionary new services and dramatically reduce total cost of ownership. Quadrupling switching bandwidth per 1RU promises considerable OpEx and CapEx savings for operators as they are asked to support rapidly growing customer demand for applications such as analytics, machine learning, and content delivery," says Ed Ulrichs, product line manager for high-speed products. "Our dual-fiber, high-density solution can provide game-changing alternatives for early adopters of 400G solutions for higher-tier switch-to-core connectivity."
Paired with a single-channel 100G demonstration, Source Photonics says that it is developing technology and products to facilitate the migration from traditional NRZ solutions to PAM4-based smal-form-factor, high-density 400Gbps solutions.
Tags: Source Photonics
Visit: www.ofcconference.org/
Visit: www.sourcephotonics.com