13 March 2017
Peregrine hires general manager of Intel's mobile communications business as CEO as Cable steps back to CTO
Peregrine Semiconductor Corp of San Diego, CA, USA – a fabless provider of radio-frequency integrated circuits (RFICs) based on silicon-on-insulator (SOI) – has appointed Stefan Wolff as its new chief executive officer. Existing CEO Jim Cable is stepping into the role of chairman & chief technology officer and will serve as global R&D director for parent company Murata Manufacturing Co Ltd.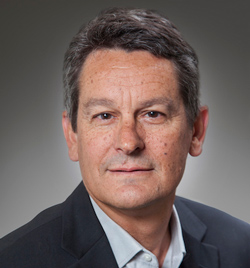 Picture: CEO Jim Cable becomes chairman & CTO and will serve as global R&D director for parent company Murata.
In nearly 15 years of general management experience in semiconductor and communications technologies, Wolff served most recently as VP & general manager of Intel's mobile communications business in Munich, Germany. While at Intel, he led a global team in developing and producing cellular modem and mobile connectivity products, securing high-profile development contracts and scoring major wins with leading vendors. Prior to Intel, Wolff managed the smartphones and RF business unit at Infineon and led an RF development center for Siemens Mobile in the USA. He started his career in automotive electronics as RF design engineer at Bosch. Wolff also has a technical background that includes a B.S. degree in electrical engineering from the University of Applied Sciences in Berlin. Peregrine reckons that Wolff is suited to his new role as CEO, in which his education and accomplishments will enable him to guide the firm's technological growth at an executive level.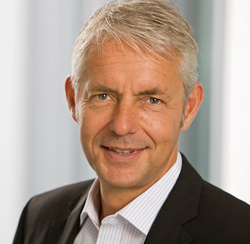 Picture: New CEO Stefan Wolff.
"We have known Stefan and have collaborated with him and his team for many years, and I am delighted to bring him on board to accelerate our growth and the growth of our parent company Murata," says Cable. "I am eager to get back to my technology roots and focus on shaping innovation for Murata," he adds.
"I have admired the Murata and Peregrine teams for years. There is such synergy in the two groups," comments Wolff. "Together, I see innovations not possible from any other company," he adds.
In addition, Cable has appointed Dylan Kelly as chief operating officer. Kelly has held the position of VP and general manager of Peregrine's mobile wireless solutions business unit since 2010. He joined Peregrine in 2000 and has held technical and management positions in product development, marketing, and sales. Prior to joining Peregrine, Kelly was with Motorola engaged in transceiver design. He holds a B.S. degree in electrical engineering from the University of Texas at Austin and an M.S. degree in electrical engineering from the University of California, San Diego. He is also the author of numerous technical papers and has 37 issued and pending patents.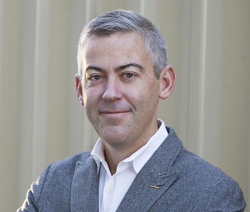 Picture: New chief operating officer Dylan Kelly.
"Dylan has been instrumental to the growth of our mobile business for many, many years," says Cable. "He is widely respected both inside and outside the company," he adds.
"We have seen tremendous growth since we were acquired by Murata so these new management additions reflect the next step in empowering our team to be even more innovative," notes Kelly.
"We see semiconductors as important part of our technology portfolio," says Norio Nakajima, executive VP, Communication & Sensor business unit/Energy business unit, Murata Manufacturing Co Ltd. "While we have always had semiconductors as part of our solutions, we will be dedicating more resources and taking those products to new levels. To formalize this effort, we will be forming a new semiconductor division," he adds.
"We are looking to the Peregrine team to help us develop leading-edge RF semiconductors and unique new products," continues Nakajima. "The team of Jim, Stefan and Dylan is ideal for achieving this vision. I have known, respected and worked with Stefan for 20 years and welcome him to the Peregrine team. Dylan has successfully grown and managed Peregrine's mobile efforts for many years, and Jim is a visionary technologist whom we need to champion additional innovations in semiconductors by Peregrine in support of the Murata vision."
Visit: www.psemi.com