23 March 2017
Lumentum enhances 100G long-reach datacom portfolio with 100G QSFP28 LR4 and 100G QSFP28 4WDM-10 transceivers
Optical and photonic product maker Lumentum Holdings Inc of Milpitas, CA, USA has added to its 100G datacom transceiver product portfolio with two new transceiver product families - QSFP28 LR4 and QSFP28 4WDM-10 - targeting hyperscale data-center, enterprise and telecom network applications. Available now, the products are on display in booth #3001 at the Optical Fiber Comminications conference & exhibition (OFC 2017) in Los Angeles (21-23 March).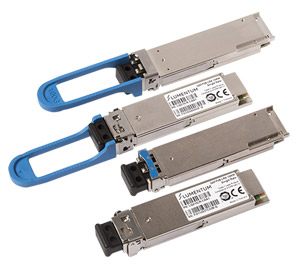 Picture: Lumentum's 100G QSFP28 LR4 transceivers.
"The QSFP28 LR4 and QSFP28 4WDM-10 products from Lumentum leverage and extend our existing strong technology and vertical integration," says Kevin Affolter, senior director, product line management, Datacom. "These solutions will be used by hyperscale service providers and network equipment manufacturers (NEMs) alike," he adds.
Based on the QSFP28 form factor, both the 100G LR4 and 100G 4WDM are single-mode duplex transceiver solutions for 10km reach. In the case of the 4WDM-10, this is enabled through the implementation of forward error correction (FEC) by the host. The QSFP28 LR4 supports dual-rate operation with power consumption less than 3.5W.
Both devices incorporate Lumentum's EML (electro-absorption modulator laser) technology that provides performance benefits for higher speeds (≥100G) and longer-distance transmission applications.
Tags: Optical communications
Visit: www.lumentum.com