23 March 2017
Lumentum expands 100G QSFP28 portfolio with short-reach datacom transceiver
Optical and photonic product maker Lumentum Holdings Inc of Milpitas, CA, USA has added a new 100G short-reach transceiver to its QSFP28 product portfolio. Complementing the previously announced QSFP28 SWDM4 transceiver, the QSFP28 SR4 targets short-reach data links at 100Gbps for large data centers as well as smaller enterprise applications. A live product demonstration with short- and long-reach transceivers is being given in booth # 3001 at the Optical Fiber Communication conference & exhibition (OFC 2017) in Los Angeles (21-23 March).
"We've leveraged our vertically integrated heritage by designing and manufacturing key components in our short-reach solutions – vertical-cavity surface-emitting laser (VCSELs) and photodetectors," notes Kevin Redner, product line manager, Datacom.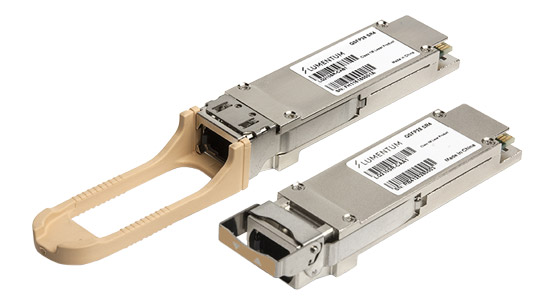 Picture: Lumentum's new QSFP28 SR4 100G short-reach datacom transceiver.
The 100G SR4 module offers a fully IEEE standards compliant solution operating on an eight-lane parallel-ribbon fiber cable for those who prefer solutions with IEEE compliance. Those looking to upgrade to 100G who have an installed base of legacy duplex multi-mode fiber (MMF) and would like to re-use it now have the option of using the SWDM4 module. SWDM technology combines four optical datastreams onto a single fiber in each direction (Tx and Rx), resulting in a factor of four (75%) fewer fibers required per 100G link.
The 100G SR4 and 100G SWDM4 are VCSEL-based short-reach fiber-optic transceivers that provide a high-speed link at the Ethernet aggregated data rate of 103.125Gbps on up to 300m multi-mode fiber. The SR4 and SWDM4 modules work on up to 100m of OM4 fiber (70m on OM3 fiber) while SWDM4 extends that reach to 150m on the new OM5 MMF type. The 100G QSFP28 SR4 is compliant with the IEEE 100GBASE-SR4 standard while the 100G SWDM4 is compliant with the new SWDM MSA specification. Both products utilize the common four-lane CAUI-4 chip-to-module interface, as per IEEE 802.3 2015 Annex 83E. Sample quantities of the QSFP28 SR4 and QSFP28 SWDM4 are available now.
Announced on 16 March, Lumentum is a founding member of the new SWDM MSA, which marks an essential next step in bringing SWDM technology to the short-wavelength (850nm) segment of the fiber-optic communications market, reckons the firm.
SWDM Alliance formed to support duplex multimode fiber for 40 and 100G enterprise and data-center applications
Tags: Optical communications QSFP28 VCSELs
Visit: www.lumentum.com
Visit: www.swdm.org