29 June 2017
Tyndall's Peter O'Brien receives Horizon 2020 'Ireland's Champions of EU Research' award for PIXAPP
Dr Peter O'Brien, head of Photonics Packaging Research at Ireland's Tyndall National Institute (based at University College Cork) and deputy director of the Irish Photonic Integration Centre (IPIC), has been honoured with a Horizon 2020 outstanding achievement award for his leadership of the PIXAPP Photonic Integrated Circuits Assembly and Packaging Pilot Line project.
O'Brien is one of 16 individuals who received Horizon 2020 achievement awards at the 'Ireland's Champions of EU Research' event (held in the Royal Hospital Kilmainham, Dublin) for projects that exhibited outstanding leadership in their respective program areas of Horizon 2020.
John Halligan TD (Minister of State for Training, Skills, Innovation, Research and Development), together with Enterprise Ireland's CEO Julie Sinnamon, presented the outstanding achievement awards to academic researchers, companies and research organizations that have reached the pinnacle of European research. The awards recognize the contribution of the award winners and all project leaders from Ireland to the country's national success in the €75bn Horizon 2020 EU Framework Programme for research and innovation.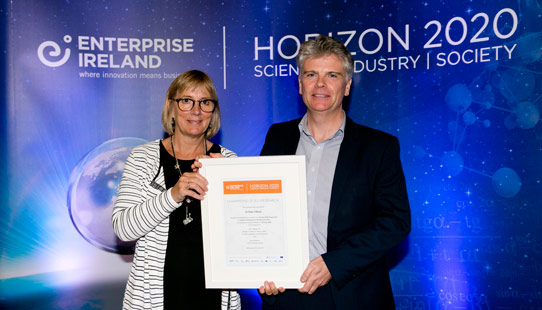 Picture: Enterprise Ireland's CEO Julie Sinnamon presenting a Horizon 2020 Champions of EU Research outstanding achievement award to Tindall's Dr Peter O'Brien. (Fennell Photography)
Led by Tyndall at UCC, the PIXAPP consortium brings together 18 partners in Ireland, the UK, Germany, France, Belgium, The Netherlands, Finland, Italy and the Czech Republic to establish what is reckoned to be the world's first open-access photonic integrated circuit (PIC) assembly & packaging pilot line. It combines a highly interdisciplinary team of leading industrial and research organizations and provides Europe's small & medium enterprises (SMEs) with a unique one-stop-shop, enabling them to exploit the advantages of PIC technologies. The €15.5m initiative is intended to help to drive EU growth and competitiveness in the global photonics industry.
At the ceremony, Horizon 2020 Champion awards were also presented to Tyndall researchers recognized as having successfully coordinated a Horizon 2020 project. Those award recipients are:
Brian Corbett for TOP-HIT, a European consortium led by Tyndall, developing novel technology to address the challenge of integrating components of different materials in large volumes at the semiconductor scale. Funded under the Horizon 2020 program for Smart System Integration, TOP-HIT runs from 2015 to 2018 and is worth over €5m.
Kafil M. Razeeb for TIPS, a Tyndall-led consortium of European researchers to develop intelligent circuits that can make photonic devices up to five times more efficient, resulting in faster data transmission at a lower cost. Also funded under Horizon 2020's call for Smart Integration Systems, the 'Thermally Integrated Smart Photonics Systems' (TIPS) project involves industry and research partners from Ireland, Germany, The Netherlands and France.
Tyndall to lead €15.5m EU-funded consortium PIXAPP
Tags: Tyndall PIC Silicon photonics InP
Visit:  www.pixapp.eu
Visit:  www.tyndall.ie