9 January 2017
IQE honoured at the European Business Awards
Epiwafer foundry and substrate maker IQE plc of Cardiff, Wales, UK was honored at an event on 30 November at London Stock Exchange for The European Business Awards (sponsored by RSM).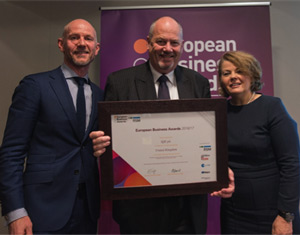 Picture: IQE's Chris Meadows (middle) collecting the 'National Champions' certificate from representatives of sponsor RSM.
IQE was one of 55 European firms chosen by a panel of independent judges (including senior businesses and academic leaders) to be 'National Champions' in Europe's largest business competition. IQE was recognized for its close work with the Welsh Government and Cardiff University to achieve "a number of key milestones in developing an advanced, high-tech manufacturing capability with the vision of establishing the world's first Compound Semiconductor Cluster in Wales".
IQE will now represent the UK in the next stage and put forward a video giving an insight into the story of its business and success. Competing against all other country National Champions for the public vote, the firm with the most votes will be named 'National Public Champion' for The UK at the Gala Final in spring 2017. The first phase of online voting is now open.
The second public vote will see all of the National Public Champions from different countries compete against each other to become the overall European Public Champion.
The European Business Awards were established to support the development of a stronger and more successful business community throughout Europe. This year it engaged with over 33,000 businesses from 34 countries.
Tags: IQE
Visit: www.businessawardseurope.com/vote/detail-new/united-kingdom/20779
Visit: www.iqep.com