20 February 2017
Veeco's Q4 revenue grows 9% to $93.6m
Epitaxial deposition and process equipment maker Veeco Instruments Inc of Plainview, NY, USA has reported revenue for full-year 2016 of $332.5m, down 30% on $477m for 2015.
Specifically, the Lighting, Display & Power Electronics segment has fallen from 61% of total revenue to 41%. In contrast, evidencing diversification of Veeco's business, revenue for the Advanced Packaging, MEMS & RF segment grew by 10% - rising from 13% to 21% of total revenue - reflecting further penetration of Precision Surface Processing (PSP) systems into Advanced Packaging applications across multiple customers. Veeco's Foundational Businesses contributed 38% of total revenue ($128m), including the Scientific & Industrial segment rising from 13% to 22% (the highest-revenue year for MBE since 2012) and the Data Storage segment from 13% to 16%.
Correspondingly, by geographical region, the China market plummeted from 51% to 26% of total revenue, while the USA has risen from 18% to 26%, the Europe, Middle East & Africa (EMEA) from 13% to 25%, and the rest of the world from 18% to 23%.
However, for fourth-quarter 2016, revenue was $93.6m, down 12% on $106.5m a year ago but up 9% on $85.5m last quarter. Specifically, Advanced Packaging, MEMS & RF grew sequentially by about 30%, rebounding from 14% to 17% of total revenue, led by PSP sales to RF filter manufacturers. Foundational Businesses rebounded strongly from $24m last quarter to $39m, rising from 28% of total revenue to 41%, including Scientific & Industrial rebounding from 16% to 28% (supported by shipments of MBE systems for high-power laser diode applications) and Data Storage rising slightly from 12% to 13%. Lighting, Display & Power Electronics comprised 42% of total revenue, as Veeco continues to ship metal-organic chemical vapor deposition (MOCVD) systems from previously announced orders.
By geographical region, China has rebounded from 25% of total revenue last quarter to 33% (reflecting an increase in MOCVD demand driving China revenue up by 47%). EMEA was unchanged at 23% while USA fell from 22% to 20%, and the rest of the world (including Southeast Asia and Japan) fell back from 30% to 24% of total revenue.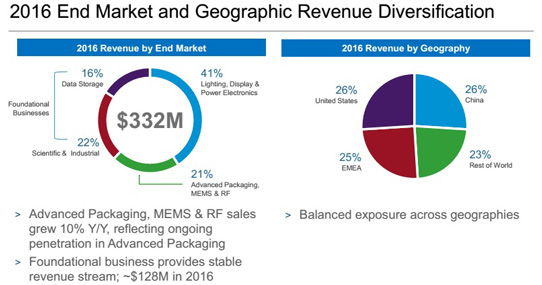 "Veeco's fourth quarter financial results marked a strong finish to a challenging year," comments chairman & CEO John R. Peeler.
"While down 30% year-on-year [in annual revenue], we took the challenge by focusing on operational execution and reducing our cost structure," says chief financial officer Shubham Maheshwari.
On a non-GAAP basis, gross margin was 39.2% for Q4/2016, down from 40.3% last quarter (reflecting the impact of duplicate expenses incurred for the manufacturing consolidation initiative) but up from 36.8% a year ago. Full-year gross margin has risen from 38% for 2015 to 40.8% for 2016. "We improved gross margins for the third consecutive year, delivering on our objective to achieve gross margins of 40% or better," notes Peeler. The performance "underscores our focus on improving through-cycle profitability," he adds.
Reflecting the momentum of cost-reduction efforts, operating expenses have been cut from $38m a year ago and $34.6m last quarter to $33m in Q4/2016 (with R&D expenses cut from $19.3m a year ago to $17.2m, and selling, general & administrative and other expenses cut from $18.7m a year ago to $15.7m). Full-year operating expenses were cut from $151.6m in 2015 to $144m in 2016, despite R&D expenses rising from $74.5m to $77.7m, since selling, general & administrative and other expenses were cut from $77.1m to $66m (reflecting a partial-year impact of cost-reduction efforts).
Compared with net income of $22.1m ($0.54 per diluted share) in 2015, full-year 2016 saw a net loss of $11.3m ($0.29 per diluted share). However, for Q4/2016 Veeco has reported net income of $3.8m ($0.09 per diluted share), exceeding the original guidance of between a loss of -$3m ($0.07 per share) and a profit of +$3m ($0.07 per share). This compares with income of $0.6m ($0.01 per diluted share) a year ago and a net loss of $1.8m ($0.05 per diluted share) last quarter.
Adjusted earnings before interest, taxes, depreciation and amortization (EBITDA) for Q4/2016 was $6.2m, up from $4.4m a year ago and more than doubling from $2.9m last quarter. Full-year adjusted EBITDA was $4.2m, down from $41.7m in 2015.
During Q4/2016, cash, cash equivalents and short-term investments rose by $7m from $337m to $344m. However, for full-year 2016, Veeco used $24m of net cash in operations, as it insourced manufacturing of certain Ion Beam products and made capital investments in R&D to support product development in Advanced Packaging and Power Electronics.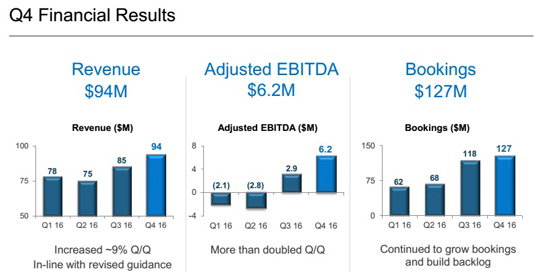 Order bookings were $127m in Q4, up 7% on $118m last quarter and 18.7% on $107m a year ago, bolstered by continued momentum in Lighting, Displays & Power Electronics as well as a strong performance in the Scientific & Industrial markets. Order backlog by $32m from $177m last quarter to $209m.
"Entering 2017, we are seeing healthy LED industry dynamics and positive business momentum," says Peeler.
During Q4/2016, Veeco secured its largest ever single business deal - an exclusive, multi-year agreement with Germany's Osram Opto Semiconductors GmbH to supply MOCVD and PSP systems for its new high-volume LED production facility in Kulim, Malaysia (accounting for a significant proportion of Veeco's Q4 bookings). "We expect to ship a majority of the systems for that fab in second-half 2017, as per their current ramp plans," notes Maheshwari. "You should expect us to carry this backlog for a couple of quarters, and as a result we currently see our Q2 revenues tracking flat to Q1," he adds.
Supported by strength in the MOCVD business, for first-quarter 2017 Veeco expects revenue of $85-100m, roughly flat quarter-to-quarter despite Q1 revenues normally being seasonally lower compared with Q4. Gross margin should be 38-40%. "We are still incurring duplicate expenses associated with manufacturing consolidation, which is having a temporary slightly negative impact [of about 1%]," notes Maheshwari. "Gross margins should begin to improve from Q2 once this consolidation initiative is behind us," he adds. "We remain committed to our gross margin goal of 40% or above [for full-year 2017]."
Veeco expects operating expenses to be reduced further in Q1, to $31-32m. Net income should be $0-6m ($0.00-0.16 per share). Adjusted EBITDA is expected to be $5-11m.
"LED industry momentum continues to remain strong, and we expect to further build backlog in Q1," says Maheshwari. Revenue is therefore expected to improve significantly from Q3/2017.
"In the TV markets, tight supply for LCD panels has led to higher pricing and improved profitability for the panel manufacturers," notes Peeler. Market research firm IHS projects that panel supply will remain constrained over the next couple of years, which has spurred plans for new capacity in China. "At the same time, demand has rapidly shifted to larger-size panels and 4K TVs, which require 30-35% more LEDs per unit," he adds. "We are also seeing positive demand trends for fine-pitch digital signage." Revenue from fine-pitch LEDs is forecasted to rise at a compound annual growth rate of 25% through 2020. "These large-scale displays are rapidly being adopted for both indoor and outdoor use, and demand for fine-pitch LEDs has increased more quickly than anticipated. As a result, we've seen higher MOCVD utilization rates at second-tier LED manufacturers [especially in China] to support this growing demand," says Peeler. "These positive trends for LED unit demand also bode well for the MOCVD industry. Analysts are forecasting a sharp recovery in MOCVD reactor shipments in 2017," he adds.
"Last year, there were only about 110 K465i-equivalent MOCVD reactors shipped into the customer base. We estimate 180-260 K465i-equivalent reactors will ship in 2017, and Veeco is poised to benefit," reckons Peeler. "We are the industry leader in blue LEDs for the fifth consecutive year, and we continue to win business across the breadth of LED manufacturers. For example, we recently displaced the long-standing incumbent at one of the last remaining customers who had not switched to EPIK," he adds. "We're targeting red, orange, yellow LED opportunities with our K475i [arsenic phosphide (As/P)] MOCVD system, and while it will take a while to build share, we are making good progress. Since launching the product last year [in February 2016], we've successfully penetrated five customers, and secured follow-on business from each."
In mid-January, Veeco completed a public offering of six-year convertible notes, maturing in 2023 (upsized from $230m to $345m), which netted proceeds of $336m. These will be used to finance the acquisition (agreed at the beginning of February) of Ultratech Inc of San Jose, CA, USA (which designs and makes lithography, laser-processing and inspection systems used to manufacture microelectronic devices and LEDs) for about $815m.
"Ultratech will establish Veeco as a leading equipment supplier to the Advanced Packaging industry," believes Peeler. The proposed combination is expected to "increase our scale, diversify our revenue and provide a stable platform to drive long-term shareholder value," he adds. The transaction is subject to regulatory clearance and approval by Ultratech's stockholders and is expected to close in the second quarter.
Veeco to acquire Ultratech for $815m
Veeco increases public offering of notes from $200m to $300m
Veeco's MOCVD sales double as display backlighting demand stabilizes and LED industry recovers
Veeco reducing investment in ALD technology after revenue realization delayed
Veeco grows gross margin despite revenue falling 9% in Q2 to $75.3m
Veeco's revenue falls 21% in Q1 to $78m
Veeco's Q4 hit by MOCVD push-out, but full-year revenue still up 21%
Veeco launches K475i As/P MOCVD system
Tags: Veeco MOCVD MBE ALD Wet processing
Visit: www.veeco.com