18 December 2017
Mini-LED revenue to reach $1bn in 2023, driven by digital displays and large-size TV backlighting
© Semiconductor Today Magazine / Juno Publishing
Due to the technological bottlenecks that make it harder to achieve commercialization of micro-LEDs in the short term (for example, Sony's micro-LED display released in 2016, which was rather high cost), to realize mass production on a shorter time-scale LED makers have now turned to R&D on mini-LEDs, says LEDinside (a division of TrendForce).
In particular, due to the larger chip size of 100-200μm, companies can develop mini-LEDs using their existing equipment, with only small changes in the manufacturing process, notes the market research firm.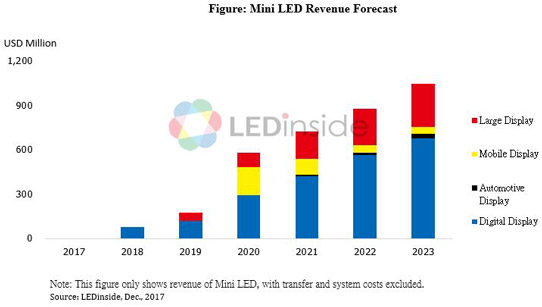 Mini-LED chips can be used for self-emitting displays and backlighting, says assistant research manager Simon Yang. With the potential to be adopted for TVs, mobile phones, automotive displays, digital displays etc, revenue is expected to reach $1bn in 2023. In particular, LED digital displays and large-size TVs will be the mainstream applications, it is reckoned.
For consumer electronics products, the cost of using mini-LED chips for a self-emitting display is too high, and the resolution may not meet the requirements of existing products. Companies hence aim to use mini-LEDs as backlights to replace traditional backlighting in LCD panels. Mini-LED backlighting can be used in TVs, mobile phones, automotive displays etc. LEDinside estimates that mini-LED backlighting demos could be released in 2018.
Due to advantages such as high brightness and higher-dynamic-range imaging, it is possible for high-end TV products to adopt mini-LEDs. In terms of applications in mobile phones, mini-LED-equipped products can realize high contrast and high brightness similar to organic light-emitting diode (OLED) products, notes LEDinside. Together with local dimming, mini-LEDs are likely to compete with OLEDs in terms of performance and price.
Companies worldwide actively involved in developing mini-LED products include chip makers such as Epistar, Lextar, San'an Optoelectronics, and HC SemiTek; packaging companies such as Everlight Electronics, Advanced Optoelectronic Technology, Harvatek, and Seoul Semiconductor; IC designers such as Macroblock and Radium Semiconductor; and Taiwan-, China- and South Korea-based LCD panel makers such as AU Optronics and Innolux Corp. China-based LED fine-pixel-pitch display maker Leyard Optoelectronic is also interested in adopting mini-LED chips.
However, there are still challenges for the development of mini-LEDs. High cost is a major concern, since mini-LED products use more chips, leading to higher costs in pick & place and bonding processes, as well as longer processing time and higher risks of a low yield rate. In addition, a mini-LED needs greater optical distance, which adds to the difficulty in making the products thinner, LEDinside notes.
Tags: LED market
Visit: www.ledinside.com