3 November 2016
Veeco's MOCVD sales double as display backlighting demand stabilizes and LED industry recovers
For third-quarter 2016, epitaxial deposition and process equipment maker Veeco Instruments Inc of Plainview, NY, USA has reported revenue of $85.5m, down 39% on $140.7m a year ago but up 13% on $75.3m last quarter and slightly above the $70-85m guidance.
By region, the Americas comprised 22% of total revenue and Europe, Middle East & Africa (EMEA) 23%, while China fell from 44% last quarter to 25% as the rest of the world (including Southeast Asia and Japan) rose to 30%, driven by strong sales of metal-organic chemical vapor deposition (MOCVD) systems.
The Lighting, Display & Power Electronics segment – primarily MOCVD – has rebounded further, from 33% of total revenue last quarter to 58%, with revenue doubling quarter-on-quarter. "We are seeing a clear improvement in LED industry conditions and solid demand for our MOCVD products," says chairman & CEO John R. Peeler. "We continue to win LED lighting and display opportunities with our TurboDisc EPIK700 MOCVD system and expand our positions in red, orange and yellow LEDs with our TurboDisc K475i arsenic phosphide (As/P) system," he adds. "We were able to support customers' accelerated shipment requests for a couple of MOCVD systems by effectively utilizing existing inventory," says chief financial officer Sam Maheshwari.
The Advanced Packaging, MEMS & RF segment comprised 14% of revenue, falling further from 23% last quarter. However, although sales in Advanced Packaging are down on last quarter, year-to-date sales have already exceeded those of full-year 2015. "We have broadened our PSP [Precision Surface Processing] customer engagements in Advanced Packaging, and are now working with multiple OSATs [outsourced semiconductor assembly & test providers] and IDMs [integrated device manufacturers] to further penetrate this market," notes Maheshwari.
Veeco's Foundational Businesses fell from $34m (44% of revenue) last quarter to $24m (28% of revenue), with the Scientific & Industrial segment falling from 26% last quarter to 16% and the Data Storage segment falling from 18% to 12%.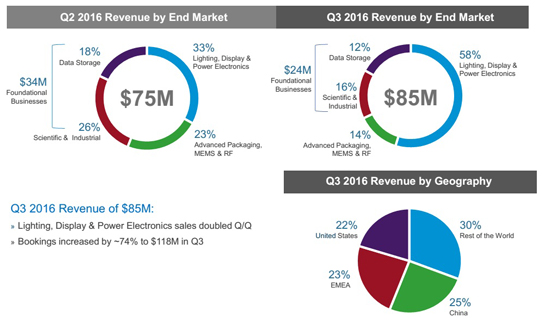 On a non-GAAP basis (excluding charges of $57.8m, mostly an intangible non-cash ALD asset impairment of $56m plus restructuring charges of $1.8m requiring cash), gross margin was 40.3%, down on 42.4% last quarter but slightly above the midpoint of the 39-41% guidance range.
Operating expenses have been cut by $3.5m from last quarter's $38.1m to a lower-than-forecasted $34.6m. "We executed well against our cost-reduction plans and accelerated OpEx savings by one quarter," notes Maheshwari.
Due to the higher sales volume and accelerated OpEx-related cost reductions, net loss was cut from $7.6m ($0.19 per diluted share) last quarter to $1.8m ($0.05 per diluted share, much better than the expected $0.26-0.10). Adjusted earnings before interest, taxes, depreciation and amortization (EBITDA) was $2.9m, an improvement from last quarter's loss of $2.8m and well above the guidance range of a loss of $6m to breakeven.
Veeco generated $7m in cash from operations, supported by an increase in customer deposits. Consistent with expectations for cash to stabilize in second-half 2016, cash and short-term investments rose by $6m to $337m.
Order bookings were $118m, up 73% on $68m last quarter. Growth was driven almost entirely by a sharp recovery in demand for Lighting, Display & Power Electronics business (MOCVD products). "Utilization rates have remained stable to slightly higher and we started to see customers making investments in MOCVD capacity," says Peeler. "We received multiple tool orders from both Epistar and HC SemiTek in support of their LED production plans," notes Maheshwari. "We successfully won new EPIK business by demonstrating the performance and cost of ownership advantages of EPIK versus a lower-cost competitor platform," he adds. "We secured follow-on orders for our recently launched K475i product, and we are seeing positive indications for additional MOCVD investment to occur in the near term." Total quarter-ending backlog rose by $32m to $177m.
For fourth-quarter 2016, Veeco expects revenue to rise to $85-100m. Gross margin is expected to fall slightly to 38-40%, including the impact of temporary inefficiencies due to duplicative labor and facility costs associated with manufacturing consolidation activities (moving manufacturing from three sites into the New Jersey facility; Veeco expects to begin seeing benefits from it by late Q1/2017, i.e. March). Operating expenses should remain relatively flat (savings from ALD cost reduction activities are expected to materialize from Q1/2017). The net result is expected to be between a loss of -$3m ($0.07 per share) and a profit of +$3m ($0.07 per share). Adjusted EBITDA is expected to be between breakeven and $6m.
"We remain focused on improving the company's through-cycle profitability," says Peeler. "We are executing against our cost-reduction initiatives [announced in early August], including our [more] recently announced plans to significantly reduce investments in atomic layer deposition (ALD) technology development," he adds. "We weighed the investments necessary to establish and grow a position in ALD with the potential and expected timing for returns and, although we continue to make progress in our development efforts for advanced semiconductor applications, the timing for potential revenue realization was delayed."
"In total, we now expect to lower the company's cost structure by $30m on an annualized basis [adding $10m cuts for ALD to the existing $20m from consolidation]. These actions are expected to lower our quarterly adjusted EBITDA breakeven level [from $75-80m] to approximately $75m in revenue, starting in the first quarter of 2017," Peeler concludes.
"Historically, Veeco's first quarter revenues have been seasonally lower than the fourth quarter [impacted by the Chinese year, largely an MOCVD effect]," notes Maheshwari. "However, based on current visibility and outlook, first-quarter 2017 revenues are trending in the same range as Q4, largely on the back of the strength of the MOCVD industry," he adds. "The weaknesses and other seasonal declines from other businesses would be offset by the improved situation in MOCVD," continues Maheshwari. "We remain focused on achieving non-GAAP gross margin at or above 40%."
Veeco reducing investment in ALD technology after revenue realization delayed
Veeco grows gross margin despite revenue falling 9% in Q2 to $75.3m
Veeco's revenue falls 21% in Q1 to $78m
Veeco's Q4 hit by MOCVD push-out, but full-year revenue still up 21%
Veeco launches K475i As/P MOCVD system
Veeco's Q3 revenue up 51% year-on-year, but MOCVD orders slump due to LED oversupply for display backlighting and China slowdown
Tags: Veeco MOCVD MBE ALD Wet processing
Visit: www.veeco.com