16 November 2016
RayVio launches medium-power UV LEDs in 3535 package for consumer UV disinfection and phototherapy applications
Health and hygiene company RayVio Corp of Haywood, CA, USA, which is commercializing deep-ultraviolet (UV) LEDs and consumer disinfection solutions, has launched its XE Series of medium-power UV LEDs that have rated outputs of 1-6mW from an ultra-compact 3535 package. With spectral output of both 280nm and 310nm, the XE Series enables high-volume consumer UV disinfection and phototherapy applications.
UV light with a wavelength of 280nm from the XE Series protects against germs in water, air and on surfaces. At 310nm, UV light from the XE Series can aid in treating skin diseases including psoriasis, eczema, rickets and jaundice.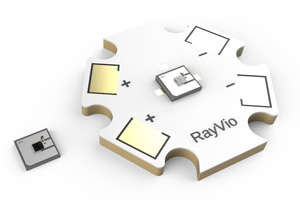 Picture: RayVio's XE Series UV LED.
The new XE Series makes its debut in Ellie (said to be the first portable UV LED baby bottle sanitizer), launching on 17 November on Indiegogo.
The XE Series is claimed to be the smallest commercially available UV LED and can be incorporated into a range of consumer products from toothbrushes and baby bottle sterilizers to humidifiers and refrigerators. Because of its output (more than twice that of similarly sized UV LEDs, it is reckoned) battery life can be conserved and fewer emitters can be used.
Unlike traditional UV light sources that are bulky, fragile and contain mercury, the XE Series is a compact, digital source that is safer than conventional sources and can help to drive the transition from analog light to digital lighting applications that enable connectivity, efficiency and mobility.
The emitter version of the XE Series is a surface-mount device that can be assembled using industry-standard pick & place equipment. The Star Board option consists of an emitter mounted on a metal core PCB, simplifying prototyping and offering higher thermal capabilities.
RayVio launches surface-mount UV LEDs for compact, portable disinfection of water and environments
RayVio expands UV LED manufacturing capacity and global sales force
RayVio claims record deep-UV LED cw power density of 30W/cm2
Tags: UV LEDs
Visit: www.rayvio.com/xeseries
Visit: http://ellieduv.com