23 November 2016
Plessey extends beam-forming Orion LED module family
UK-based lighting and sensing product and component maker Plessey has extended its range of ultra-slim Orion LED modules based on its Stellar beam forming technology, with new beam angles opening the technology to a wider range of applications in industrial and architectural lighting design. Plessey is showcasing the new modules in booth M8 at LuxLive event in London, UK (23-24 November).
The Orion LED beam-forming modules deliver a compact 3000 lumen beam from a module that can be as little as 5.6mm thick (less than one-tenth the thickness of standard alternatives). The recently launched PLWS3000 25° FWHM (full width half maximum) beam-angle module has now been joined by modules with 15° and 50° beam angles. All modules in the family share a common 82mm diameter, allowing lighting designers to simply substitute modules to create a family of compact luminaires suitable for a wide range of lighting applications.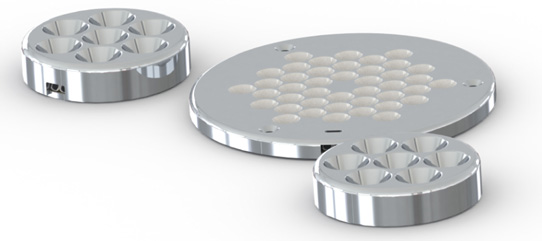 Picture: The extended range of Orion LED modules from Plessey offer new beam widths, enabling further creative opportunities for directional lighting applications.
At the same time, Plessey has announced plans to release Orion-Mini, a new 45mm-diameter version offering a 10° sub-1000lm beam in Spring 2017. The Orion-Mini will share the slim profile of the full-size module, but will be offered in a format suitable for design into small-form-factor downlights, spotlights and architectural lights as a replacement for GU10, MR16 and similar lights.
With its slim line form, range of colour temperatures and improved thermal characteristics, Orion modules are designed to be used in a variety of directional lighting applications such as retail, track and architectural. Integrating the latest LED technology in conjunction with its Stellar beam-forming technology to provide an efficient, slim-line module provides a new design freedom not accessible with alternative chip-on-board (COB)-style modules, it is claimed. The thermal characteristics allow the heat-sink and hence the overall luminaire to be reduced in size.
"Plessey now offers Orion modules in a range of formats offering designers greater freedom," says Paul Drosihn, head of Modular Products. "Orion modules are revolutionizing the lighting market, giving scope for a radical rethinking of the way in which lighting from industrial high-bay to architectural luminaires is designed," he claims. "The Orion family with Stellar beam-forming technology provides an innovative approach to directional lighting applications, opening new opportunities for creativity in industrial and architectural design."
The Orion family is offered in three colour temperatures: warm white, neutral white and cool white. The modules have a luminous efficiency of more than 100 lumens/Watt, feature improved light uniformity and thermal performance.
Plessey unveiling additions to Orion LED module range at LuxLive
Plessey shortlisted as finalist in Lux Awards
Plessey launches beam-forming LED module using Stellar optical technology
Tags: Plessey GaN-on-Si HB-LEDs
Visit: www.plesseysemiconductors.com/led-plessey-semiconductors.php
Visit: http://luxlive.co.uk/