3 November 2016
Oclaro revenue grows for fifth consecutive quarter, up 55% year-on-year, driven by 100G
For its fiscal first-quarter 2017 (ended 1 October 2016), Oclaro Inc of San Jose, CA, USA (which provides components, modules and subsystems for optical communications) has reported a fifth consecutive quarter of 7%-or-greater sequential revenue growth, to another record of $135.5m (above the $126-134m guidance). This is up 8% on $125.2m last quarter (a 14-week quarter) and up 55% on $87.6m a year ago.
Growth was driven by 100G-and-beyond sales growing by about 20% for the fifth consecutive quarter, to $97.8m (72% of total revenue), up 23% on $79.7m (64% of revenue) last quarter and up 140% on $40.8m (47% of revenue) a year ago.
For 40G-and-lower speeds, revenue fell further, from $46.8m (53% of total revenue) a year ago and $45.5m (36% of revenue) last quarter to $37.7m (28% of revenue), driven mainly by the tapering down of $3m of 40G end-of-life products and the loss of the extra week of 10G sales compared with the 14-week fiscal Q4.
Client-side (datacom) sales were $68.4m, up 5% on $65.5m last quarter and up 44% on $47.5m a year ago. Line-side (telecom) sales were $67.1m, up 12% on $59.7m last quarter and up 68% on $40m a year ago. In particular, 100G revenue was approximately evenly split between the client-side and line-side markets.
By region, China comprised 43% of total revenue (roughly level with last quarter), Southeast Asia 23% (up from 16% last quarter, after revenue growth of 46%), the Americas 19% (down from 23%), and Europe 13% (down from 16%). However, demand in Southeast Asia is coming from contract manufacturers serving North American and European customers.
"The September quarter again demonstrated the continued strong performance of the company and the vitality of the global 100G market," says CEO Greg Dougherty. "We exceeded our guidance in all areas," he adds.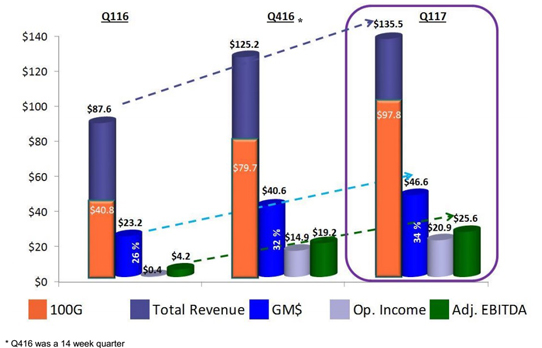 On a non-GAAP basis, gross margin has grown from 26.4% a year ago and 32.4% last quarter to a record 34.4% (above the forecasted 30-33%), due mainly to the 100G sales mix, economies of scale related to manufacturing overheads, and inventory management.
Operating expenses (OpEx) were $25.8m, level with last quarter but, due to the above-expected revenue, cut from 20.6% of sales to just 19% (beyond the targeted 20-21%), comprising 9.4% in R&D and 9.7% in SG&A (sales, general & administrative).
Operating income has grown from $0.4m a year ago and $14.9m last quarter to a record $20.9m (operating margin of 15.4% of sales), above the forecasted $12-16m.
Net income was $20m ($0.14 per diluted share), up from $14.4m ($0.11 per diluted share) last quarter, and the fourth consecutive quarter of positive earnings per share compared with a net loss of $1.6m ($0.01 per diluted share) a year ago. Adjusted EBITDA has grown from $4.2m a year ago and $19.2m last quarter to $25.6m.
Early in the quarter, Oclaro retired $65m of convertible debt, followed in September by raising a net $128.6m in capital through a stock offering. Overall, following capital expenditure (CapEx) of $14.2m and working capital in prepaid of $6.8m, total cash, cash equivalents and restricted cash rose by $132.7m from $96.6m to $229.3m.
"Based on the projected growth prospects for the data-center, China and metro markets, we expect customer demand for our highly differentiated 100G-and-beyond portfolio to remain strong in fiscal 2017," says chief financial officer Pete Mangan.
For fiscal second-quarter 2017 (ending 31 December 2016), Oclaro expects revenue of $146-154m (up 8-14% quarter-to-quarter and nearly 60% year-to-year), driven mainly by continued growth in 100G. "We again expect to continue to see strong growth across all of our 100G products serving both the client- and the line-side markets," says Dougherty. "We continue to see very robust demand and we remain capacity constrained for essentially all 100G and tunable product line," he adds. Growth will be gated by capacity and not market demand. Oclaro expects 40G-and-below sales to decline further to about $35m, then to about $30m per quarter in fiscal second-half 2017 as 40G business winds down.
In fiscal Q2/2017, gross margin should be 33-36%, and operating income $22-26m (with operating margin rising to about 16% of sales). However, Oclaro's targets remain 35% gross margin and 15% operating margin. "We want to show that we can sustain that, and then move from there," notes Mangan.
As Oclaro invests in R&D but continues to leverage SG&A, it expects OpEx to now remain 19-20% of sales, despite R&D rising to 10-11%, as SG&A is cut to 9% or less.
Regarding CapEx for fiscal 2017, Oclaro previously projected $55-65m, and now believes it will run to the high end of this range as it invests in additional capacity to grow revenue. This CapEx investment will result in a corresponding sequential increase in depreciation of $800,000-900,000 per quarter for the remainder of fiscal 2017.
Oclaro's revenue grows for fourth consecutive quarter, up 52% year-on-year
Oclaro reports 100G revenue growth for fourth consecutive quarter, up 94% year-on-year
Oclaro's quarterly revenue grows 8%
Oclaro achieves positive adjusted EBITDA and non-GAAP operating income
Tags: Oclaro
Visit: www.oclaro.com