28 November 2016
Disco launches fully automatic polisher for CMP of difficult-to-process materials including sapphire
At SEMICON Japan 2016 at Tokyo Big Sight (14-16 December), Tokyo-based semiconductor manufacturing equipment maker Disco Corp is exhibiting the new DFP8141, a fully automatic single-spindle polisher that supports chemical mechanical polishing (CMP) of difficult-to-process materials including sapphire, silicon carbide (SiC), lithium tantalate (LiTaO3), and lithium niobate (LiNbO3).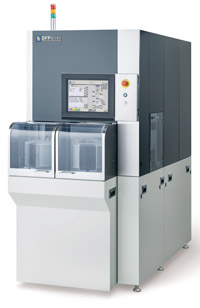 Picture: Disco's new DFP8141 fully automatic polisher system.
Disco says that the high-brightness LED market requires a polishing process for device performance improvement after backside grinding of the sapphire substrate on which the device has been formed. Due to the increased focus on energy saving, there has been increasing need to polish SiC for power devices (for which demand is growing) and lithium tantalate (LT) for surface acoustic wave (SAW) filters, as well as lithium niobate (LN). In response, DISCO has developed the DFP8141, which offers processing solutions that were not available in the firm's product line-up until now.
The fully automatic specification allows the DFP8141 to complete CMP processing cassette-to-cassette. The systems also comes equipped with a cleaning station and performs wafer cleaning and drying after processing automatically.
The DFP814's design also allows for various specifications, including semi-automatic (with no transfer section) and in-line (for seamless processing with the DFG8830 grinder for difficult-to-process materials). In addition, the transfer system accepts three types of workpiece configurations: single wafer transfer, substrate transfer, and frame transfer. With a single spindle with two chuck tables (single-wafer processing), the DFP814 supports wafer diameters up to 8-inches.
Sales of the DFP8141 will begin in first-half 2017.
Tags: Sapphire substrates SiC LEDs
Visit: www.disco.co.jp