27 May 2016
Vishay launches long-lifetime ceramic-based, high-power 365nm UV LED with silicone lens
Vishay Intertechnology Inc of Malvern, PA, USA has launched a new device in its VLMU35xx series of ceramic-based, high-power UV LEDs with silicone lenses that features a wavelength in the 365nm range for medical, industrial and printing applications. Designed to provide a reliable, energy-saving replacement for mercury lamps, the silicone lens of the Vishay Semiconductors VLMU3510-365-130 enables lifetimes up to 25,000hr, compared to the typical mercury lamp lifetime of 10,000hr.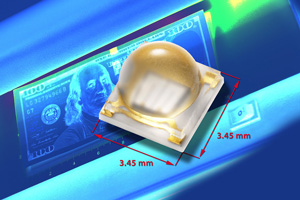 Supplied in a compact 3.45mm by 3.45mm surface-mount package, the environmentally friendly UV LED is free of heavy metals and provides increased reliability through its shock resistance and immunity to degradation from frequent on/off switching. While mercury lamps require complex drive circuits and need 2-15 minutes to warm up, the VLMU3510-365-130 allows the use of simple low-voltage circuitry and requires no warm-up period.
Fabricated from indium gallium nitride (InGaN) technology, the new UV LED features typical radiant power of 690mW at 500mA and 945mW at 700mA in a wavelength range of 362.5-370nm. The VLMU3510-365-130 has an emission angle of 130° and radiant intensity of 315mW/sr at 700mA.
The LED's specifications make it suitable for UV curing in nail salon, dental, and poster printing applications; blood and counterfeit money detection; and photocatalytic purification. RoHS-compliant, halogen-free, and Vishay Green, the VLMU3510-365-130 is compatible with reflow soldering processes and features a Moisture Sensitivity Level of 3 in accordance with J-STD-020.
Samples and production quantities are available now, with lead times of 6-8 weeks.
Tags: Vishay
Visit: www.vishay.com