9 May 2016
Solar Frontier modules chosen for Enilso solar projects iin Mexico
Solar Frontier Americas, the US subsidiary of Tokyo-based Solar Frontier – the largest manufacturer of CIS (copper indium selenium) thin-film photovoltaic (PV) solar modules – says that the firm's solar modules have been selected to be installed in a pipeline of residential, agri-business and agro-industrial solar power generation projects in and around Sonora, Mexico, by Enilso, a rapidly growing solar distribution and installation organization serving Mexico.
The solar projects range from 5-10kW residential projects to 200-500kW agricultural installations. Scheduled to be installed in third-quarter 2016, the residential projects are targeted at reducing homeowner's monthly electricity bills. Meanwhile, in the arid climate of Sonora, agri-business is a key part of the economy where local farmers grow asparagus, table grapes, and melons. The second phase of solar projects will be self-consumption ag-solar installations constructed to generate renewable energy for crop irrigation pumping, cooling facilities for freshly harvested fruits and vegetables, and industrial processing and freezing of produce. The investments aim to stabilize agricultural businesses by supporting energy independence, reducing energy costs, and freeing capital for important equipment purchases.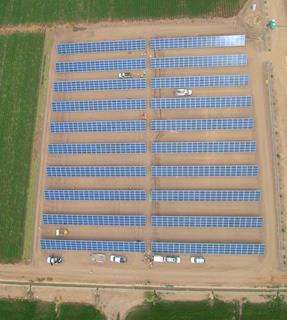 Picture: A 480kW solar system providing electricity for a vegetable farming operation in San Luis Rio Colorado, Sonora, Mexico.
Enilso's founders stem from generations of farmers. In 2010, they saw the value that solar brought to agricultural businesses and spearheaded several solar projects. That small business has now grown to an experienced, full-service installer serving the residential and large commercial solar markets of Mexico.
"We're impressed with the consistent, organic growth of Enilso and their commitment to quality in both the solar components and construction of their solar projects," comments Solar Frontier Americas' chief operating officer Charles Pimentel.
Solar Frontier says that its CIS modules were selected by Enilso for their higher energy yield in real-world conditions. For example, in the hot climate of Sonora the low temperature coefficient of CIS ensures a smaller loss in power output compared with crystalline silicon technologies.
"Enilso selected Solar Frontier to provide our clientele with a solar module that can withstand the torrid climatic conditions of Mexico and continue to deliver the highest energy yields over the life of the solar system," says Enilso's CEO Gustavo Borquez.
Tags: CIS thin-film PV modules
Visit: www.solar-frontier.com
Visit: www.enilso.com.mx