24 May 2016
Peregrine extends MPAC product family to 8-12GHz for X-band radar beam-forming
In booth #2129 at the IEEE MTT-S International Microwave Symposium (IMS 2016) in San Francisco (24-26 May), Peregrine Semiconductor Corp of San Diego, CA, USA – a fabless provider of radio-frequency integrated circuits (RFICs) based on silicon-on-insulator (SOI) – has launched the UltraCMOS PE19601, a monolithic phase and amplitude controller (MPAC) solution for beam-forming. The new MPAC–Beamforming device spans a frequency range of 8-12GHz and has an extended frequency range of 6-14GHz, expanding Peregrine's MPAC product family into higher frequencies. The PE19601 is designed for X-band radar applications including active electronically scanned array (AESA) weather, air-traffic control and military radar.
"Peregrine has proved that RF SOI can deliver a high-performing, reliable and integrated solution at high frequencies," says director of marketing Kinana Hussain. "As the demand for high-frequency applications increases, Peregrine will continue to support the future of communications with intelligently integrated solutions, like the MPAC portfolio."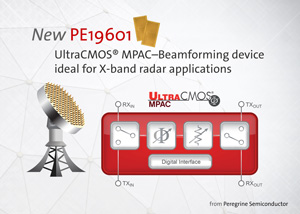 The MPAC product family showcases UltraCMOS technology's capabilities for intelligent integration (the seamless integration of RF, digital and analog components on a single chip). The PE19601 MPAC–beam-forming solution integrates a 6-bit digital step attenuator (DSA), a 6-bit or 10-bit digital phase shifter (DPS), RX/TX switching and a digital serial interface on a monolithic die. The DSA covers a 31.5dB attenuation range in a 0.5dB step with a low RMS amplitude error of 0.2dB. The phase shifter has a 360° phase range with a very fine resolution of 5° and RMS phase error of 2°. The PE19601 maintains high attenuation and phase accuracy over frequency and temperature. Through intelligent integration, the PE19601 combines RF and analog processing with digital programmability to deliver the flexibility to tune gain and phase at fine resolution.
The UltraCMOS technology platform also offers high reliability, repeatability and high linearity (critical to enabling high-dynamic-range, high-sensitivity radar). High dynamic range is the radar's ability to receive a wide range of signal strengths and levels, hence it can be more accurate because it can detect weaker return signals. High linearity improves the sensitivity of the radar and enables the radar to better detect small objects in cluttered environments. Offered as a 2.6mm x 4.65mm bare wirebond die, the PE19601 MPAC–beam-forming device has linearity of greater than 40dBm IIP3 (third-order input intercept point) and high isolation of 50dB. It delivers high power handling of 17dBm P0.1dB and exhibits low power consumption of 0.001mA.
Suitable for high-density compact arrays, the PE19601 delivers the fine resolution and degree of control that is critical for radar applications, says Peregrine. Radar's intelligent arrays can be optimized through increased accuracy and resolution. This performance optimization can occur within the fundamental beam pattern or by reducing unwanted interferers. When the phase accuracy and resolution of the array is low, the directionality of the beam is also low. Increasing the phase accuracy and resolution improves the directionality and the ability to focus the signal. Further fine-tuning the phase relationships of all the elements in an array can create nulling effects, which can be leveraged to mitigate the effects of interferers and help to reduce the level of interference generated. The PE19601 allows for the precise and fine control of a beam's key characteristics.
PE19601 samples and evaluation kits with software are available now. Volume production units will be available this summer. The PE19601 is $39.60 each for 1000-unit orders and $32.12 each for 5000-unit orders.
Peregrine's MPAC-Doherty device demonstrated optimizing RFHIC's GaN Doherty amplifier at 3.5GHz
Peregrine extends MPAC–Doherty product family to 1.8-3.8GHz to support GaN power amplifier frequencies
Peregrine makes available first UltraCMOS monolithic phase and amplitude controller
Visit: www.ims2016.org
Visit: www.psemi.com