10 May 2016
Littelfuse launches SiC Schottky diodes
In booth 140 (hall 7) at PCIM Europe (Power Conversion and Intelligent Motion) Europe 2016 in Nuremberg, Germany (10-12 May), Littelfuse Inc of Chicago, IL, USA (which provides circuit protection technologies) is  introducing the LFUSCD Series of silicon carbide (SiC) Schottky diodes as the latest addition to its growing line of power semiconductor products.
Compared to standard silicon bipolar power diodes, LFUSCD Series SiC Schottky diodes allow designers to reduce switching losses, accommodate large surge currents without thermal runaway, and operate at higher junction temperatures, all of which enable substantial increases in system efficiency and robustness.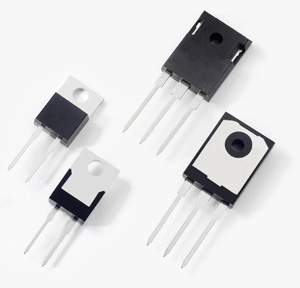 Picture: Littelfuse's LFUS Series SiC Schottky diodes.
The merged p-n Schottky (MPS) device architecture of the LFUSCD Series ensures enhanced surge capability and reduced leakage current, says Littelfuse. Available in voltage ratings of 650V and 1200V at current ratings ranging from 4A to 30A, they are suitable for a broad range of markets including industrial power supplies, solar inverters, industrial drives, welding and plasma cutting, and electric vehicle/hybrid electric vehicle (EV/HEV) charging stations.
LFUSCD Series SiC Schottky diodes are said to improve the efficiency, reliability and thermal management of applications, such as:
power factor correction (PFC); 
buck or boost stages in DC-DC converters; 
free-wheeling diodes in inverter stages (switch-mode power supplies, solar, UPS, industrial drives); and 
high-frequency output rectification.
"With best-in-class forward voltage drop and stored capacitive charge, Littelfuse SiC diodes will enable our customers to optimize the efficiency of their designs while increasing system robustness and reliability," claims Dr Kevin Speer, business development manager for the Power Semiconductor technology line. 
LFUS Series SiC Schottky diodes are said to offer the following benefits:
best-in-class capacitive stored charge and near-zero reverse recovery make the devices suitable for high-frequency power switching, ensure negligible switching losses, and reduce stress on the opposing switch;
best-in-class forward voltage drop ensures low conduction losses;
maximum junction temperature of 175°C provides for a larger design margin and relaxed thermal management requirements; and
a merged p-n Schottky (MPS) device architecture enhances surge capability and provides extremely low leakage.
LFUS Series SiC Schottky diodes are available in tubes in TO-220 two-lead and TO-247 three-lead packages. Sample requests can be placed through authorized Littelfuse distributors worldwide.
Littelfuse unveiling SiC Schottky diodes at PCIM Europe
Littelfuse invests in silicon carbide switch maker Monolith
Tags: SiC MOSFET SiC Schottky barrier diodes SiC power devices
Visit: www.mesago.de/en/PCIM/main.htm
Visit: www.littelfuse.com/products/power-semiconductors/silicon-carbide/