10 May 2016
Crystal IS expands range to high-powered UVC LEDs for disinfection of water, air and surfaces
In hall A2 booth 213 at Analytica 2016 (the 25th International Trade Fair for Laboratory Technology, Analysis and Biotechnology), Crystal IS Inc of Green Island, NY, USA, an Asahi Kasei company that makes proprietary ultraviolet light-emitting diodes (UVC LEDs), has launched a commercial product line targeting higher-power applications for UVC disinfection of water, air and surfaces.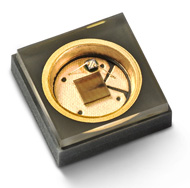 Picture: Crystal IS' new Klaran UVC LED, a compact design targeting higher-power disinfection applications.
Building on the firm's commercialized Optan product line, Klaran is Crystal IS' first-generation disinfection product line (available now in both sample and production quantities). Offering germicidal output powers from 15mW to 30mW, it is uniquely suited to use in healthcare, lab water and consumer product applications where health and human safety is of primary importance.
Applications demonstrating the need for high-powered UVC LEDs include healthcare, lab water and consumer products:
According to the Centers for Disease and Control (CDC), hospital-acquired infections (HAIs) impact one in 25 patients in the USA each year. The Affordable Care Act (ACA) and the Centers for Medicare and Medicaid Services (CMS) report improved patient outcomes, shorter stays and fewer repeat visits linked to healthier environments that incorporate UVC technology in addition to approved standard surface wipe protocols.
Point-of-use (PoU) lab water purifiers now make up 75% of an approximately $480m global market. UVC LEDs can be integrated into these systems for Type I, II and III water purification, as defined by the American Society for Testing and Materials (ASTM).
Global headlines highlight the need for safe and reliable drinking water, and the UVC water purifier market is hence expected to almost double in size over the next five years from $9.16bn to $17.85bn in 2020. In addition to the USA, this growth is attributed to China and India, where industrialization and a rising urban population is putting a strain on drinking water resources.
Crystal IS says that the new Klaran can benefit manufacturers who need:
optimized, high-output germicidal power for maximum disinfection rates;
smaller footprint that affords design flexibility and product innovation;
a rugged design for mobile applications; and
non-hazardous, mercury-free solution with no fragile quartz tubes. 
"For Crystal IS, developing a reliable disinfection product has been one of the company's primary strategic goals," says CEO Larry Felton. 
In addition, Crystal IS offers technical assistance via application engineering support, software modeling or onsite training to assist innovation teams in developing disinfection solutions.
Tags: Crystal IS UVC LEDs
Visit: www.cisuvc.com/products/klaran