3 May 2016
Avancis sets encapsulated CIGS solar module efficiency record of 17.9%
Copper indium gallium diselenide (CIGS) thin-film photovoltaic module maker Avancis GmbH of Torgau, Germany has achieved record solar energy conversion efficiency of 17.9% for encapsulated CIGS thin-film modules, using its latest 30cm x 30cm champion cadmium (Cd)-free module (with an aperture area of 622cm2), as certified by the Fraunhofer Institute for Solar Energy Systems (ISE) in Freiburg, Germany. The firm's previous aperture efficiency record was 16.6% for its champion module, as certified by the US Department of Energy's National Renewable Energy Laboratory (NREL) in January 2014.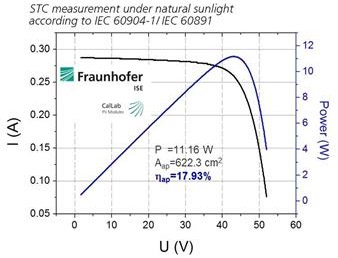 The 30cm x 30cm champion module is based on a mass-produced CIGS absorber from Avancis' production plant in Torgau, complete with a refined window and module process steps developed by the firm's R&D center in Munich.
The optimized indium-based buffer is deposited in an environmentally benign manner and with enhanced material yield by a completely dry vacuum-coating processes. The improvement in efficiency was achieved through a modified design with reduced cell width, an optimized ZnO:Al front contact, and improved application of laser processes in order to reduce the dead zone between the series-connected cells.
"This achievement is not just another world record for CIGS solar modules, it generally shows the unbroken dynamics of thin-film development," says Avancis' chief technology officer Dr Jörg Palm. "Transferring that result into production would lead to CIGS modules with the impressive power of 170Wp on a PowerMax product size of 1m2," he adds. "Our products exhibit not only typical application advantages of thin-film modules, but also efficiency ranges previously restricted to poly-silicon based products. Our products are therefore increasingly eligible for area-constrained installations, which have been previously dominated by conventional silicon modules."
See related items:                                                                 
CNBM breaks ground for largest CIGS solar module production plant in China
China's CNBM completes acquisition of Germany's Avancis
Avancis achieves 16.6% efficiency record for encapsulated CIS thin-film PV modules
Tags: Avancis CIS PV module
Visit: www.Avancis.de