3 May 2016
Aixtron's Q1 revenue hit by ongoing weak LED-related demand
For first-quarter 2016, deposition equipment maker Aixtron SE of Herzogenrath, near Aachen, Germany has reported revenue of €21.4m, almost halving (down 47%) from €40.3m a year ago and down by almost two-thirds (62.5%) from last quarter's €62.5m. This was due in particular to the ongoing weak demand for production systems for gallium nitride (GaN)-based LED applications and the corresponding low order intake in Q3/2015 and Q4/2015.
Of total revenue, 56% came from equipment sales and 44% (€9.5) from sales of spare parts & services (much higher than normal due to the very low product sales). On a regional basis, over 70% of revenue came from Asia, 13% from Europe, and 17% from the USA.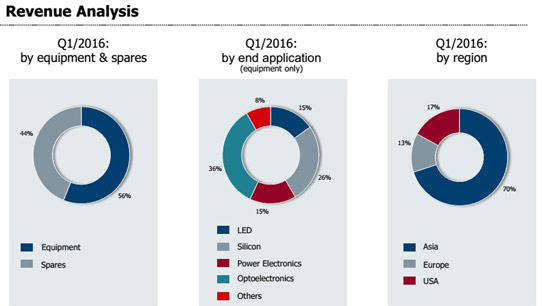 "We continue to diversify our revenue base, which can be seen in our revenue mix," notes president & CEO Martin Goetzeler. Aixtron's largest market was optoelectronic components (including lasers, transmitters, etc) at 36% of sales (up from 5% a year ago), followed by silicon at 26%, LEDs at just 15% (down from 26% last year), and power electronics at 15%.
Despite a favorable product mix, gross margin of 15% is down on 31% last quarter and 22% a year ago due to the low utilization.
"Based on the order backlog as of 31 December 2015, Q1/2016 developed on a modest scale. As a result it has been more important than ever to increase productivity as well as to control costs," says Goetzeler. Although roughly level with €17.6m a year ago, operating expenses of €17.8m are lower than €21.1m last quarter, as the additional €1.3m quarterly operating costs from PlasmaSi of Fremont, CA, USA (acquired in Q2/2015) - which provides low-temperature silicon nitride plasma-enhanced chemical vapor deposition (PECVD) systems for the encapsulation of organic thin-films - and €4.7m in comparative negative currency-related translational and valuation effects were offset by higher productivity, better cost control, and a contractual settlement.
EBITDA (earnings before interest, tax, depreciation and amortization) has hence fallen from €1.3m last quarter to -€11.7m (compared with -€6.4m a year ago).
Operating cash flow was -€19.4m (below -€10.1m a year ago, but an improvement on -€32.1m last quarter), due mainly to paying the second installment in returning the advanced payment from San'an Optoelectronics Co Ltd (China's largest LED maker), which did not qualify Aixtron's new AIX R6 metal-organic chemical vapor deposition (MOCVD) system. Capital expenditure (CapEx) was just €0.9m (down from €2.9m last quarter and €3.5m a year ago). Hence, despite still being down on -€12.1m a year ago, free cash flow improved from -€35m last quarter to -€20.3m. However, free cash flow would have been close to break-even without repaying the second installment to San'an.
Due partly to the repayment to San'an and an agreed milestone payment of €4.1m for the acquisition of PlasmaSi in 2015, cash and cash equivalents were €181.9m at the end of March, down on €209.4m at the end of December and €263.2m a year ago. Aixtron has no financial debt.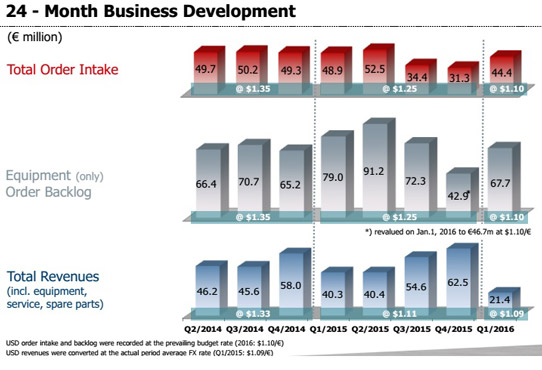 Although still down by 9% on €48.9m a year ago, total order intake rose by 42% from €31.3m last quarter to €44.4m, due mainly to stronger demand for Aixtron's planetary reactor technology across a variety of applications.
Aixtron says that there were positive developments in the business particularly related to optoelectronics and power electronics, caused by growing demand for high-performance and energy-efficient components for markets such as communications, data storage and electric mobility. In addition, in Q1/2016 Aixtron saw increased demand for AIX 2800G4 Planetary Reactor production MOCVD systems for gallium arsenide/indium phosphide material in red-orange-yellow (ROY) LEDs. Also, the G4 system has been transferred to Aixtron's latest controls platform IC 2, giving compatibility to the firm's latest automation features. Demand for systems in silicon-related applications was slow, but the firm expects a recovery in the coming quarters.
In March, Aixtron said that its AIX R6 MOCVD system had been qualified by Epistar Corp of Hsinchu Science-based Industrial Park, Taiwan (the world's largest manufacturer of LED epiwafers and chips). "We expect the tool to be qualified in other LED manufacturers, and we believe that we will consequently see orders for the AIX R6, depending on market conditions," says chief operating officer Bernd Schulte. "With our G5 Planetary Reactor, our customers have made significant progress in developing gallium LEDs on large silicon wafers, enabling the potential to reduce LED costs significantly," he adds.
"The significant increase in our order intake in the first three months of 2016 demonstrates that we were able to convince our customers with our system technologies for the production of future-oriented materials such as gallium nitride-on-silicon, silicon carbide or graphene in particular," says Goetzeler. "In the area of opto and power electronics, we have performed well with our planetary systems, especially with our AIX G5+ C cluster tool and our revised AIX G4-TM system," he adds. "Furthermore, we put great emphasis on cooperation projects with leading research institutions such as imec and Institut Lafayette. Thus, we support our goal to achieve a diversified technology and product portfolio."
During the quarter, equipment order backlog hence rose significantly, by 58% from €42.9m to €67.7m (although still down on €79m a year ago).
This development supports the expectation of revenue growth for the remainder of 2016, reckons Aixtron. Consequently, despite a slow start to the year, based on its current order situation Aixtron reiterates the full-year 2016 guidance given in February for revenue of €170-200m (compared with 2015's €197.8m), with significantly stronger revenue generation in second-half 2016 compared to first-half 2016. Currency adjusted, order intake (in Euros) is expected to be at the same level as in 2015.
Aixtron forecasts that it can generate Spares & Services revenue of €11m per quarter over Q2-Q4/2016, i.e. €33m for the remainder of 2016. So, in addition to shippable order backlog of €68m by end-Q1, Aixtron therefore needs to secure additional shippable orders of €48-78m for 2016. "These orders we expect primarily from application areas like silicon, opto, power electronics and from LEDs," says Goetzeler.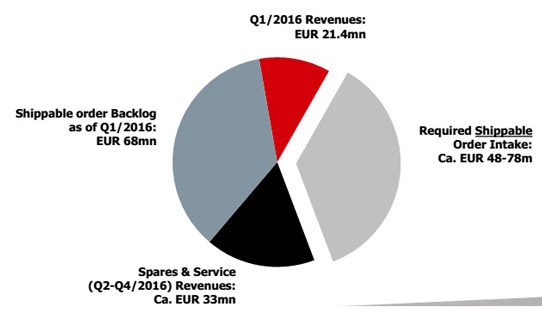 Based on the internal budget rate of US$/€1.10 and depending on the successful completion of qualification processes, market-entry efforts as well as the achievement of revenues at the high end of the revenue guidance range, Aixtron expects EBITDA, EBIT, net result and free cash flow to improve slightly compared to 2015 but to remain negative for full-year 2016. In addition, Aixtron expects positive EBITDA for full-year 2017. "We expect 2017 to be a stronger year, driven by growing demand across all the markets we are addressing," concludes Goetzeler.
Aixtron's AIX G5+ C qualified for manufacturing of high-voltage GaN-on-Si materials in joint project with imec
Taiwan LED maker Epistar finalizes qualification of Aixtron's AIX R6 MOCVD system
Plessey expands GaN-on-Si LED production capacity with Aixtron AIX G5+C cluster
Aixtron ships AIX G5+ C MOCVD system to Exagan for production ramp of GaN-on-Si power-switching devices
Aixtron's revenue grows 14% in Q4 as diversification outweighs LED-related China loss
Aixtron's revenue grows 35% in Q3
Aixtron lowers full-year 2015 revenue guidance from €220m-250m to €190-200m
Aixtron's first-half revenue and margin suppressed by delayed customer qualifications for AIX R6 MOCVD tool
Aixtron improves earnings despite revenue drop while new MOCVD system undergoes qualification
Aixtron acquires PECVD-based OLED thin-film encapsulation firm PlasmaSi
Aixtron continues reorganization in 2015
Aixtron launches AIX R6 next-generation MOCVD system
China's San'an expands by ordering 50 Aixtron MOCVD systems
Visit: www.aixtron.com