14 March 2016
Samsung boosts color quality in small-LES CoB LEDs for premium commercial LED lighting
Samsung Electronics Co Ltd of Seoul, South Korea has introduced new color quality improvements for its small-LES (light-emitting surface) chip-on-board (COB) package LC series: the LC010, LC020 and LC040. The improvements are based on 'Vivid' color technology that has been optimized for high-color-quality LED lighting, especially for use in premium commercial lighting applications.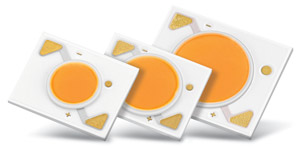 Picture: Samsung's small-LES COB LEDs.
"With Samsung's new small-LES COB packages, LED luminaire manufacturers can enjoy exceptionally high color quality and design flexibility," says Jaewook Kwon, vice president of Samsung Electronics' LED Strategic Marketing Team.  
Available in correlated color temperatures (CCTs) of 2700K, 3000K, 3500K, 4000K, 5000K and 5700K, the small-LES LC series offers three alternatives: the LC010C with an operating wattage of 10W and an LES diameter of 6mm; the LC020C with 20W and an 8mm LES diameter; and the LC040C with 40W and an 11mm LES diameter.
The small-LES LC series reduces the space required for the LES by 50%, while doubling the center-beam candle power (CBCP) over that of existing standard COB LED packages.
Improved quality of light in the small-LES LC series is enabled by Samsung's Vivid color feature, which provides special color spectrums optimized for retail markets such as grocery and premium commercial stores. The Vivid color spectrums add more brilliance to displays of fresh meat and fruits, for example. The small-LES line-up also features high CRI (color rendering index) – over 80, 90 and 95, respectively. These improvements will help to satisfy requirements for premium commercial lighting applications, says the firm, where color quality is a critical factor in lighting performance.
In addition, Samsung's flip-chip and phosphor dispensing technologies have been adopted to reduce the size of the LES throughout the LC series, in compliance with Zhaga Book 12. The small-LES LC series can increase cost effectiveness by significantly reducing the size of key elements within a luminaire such as its optics, heat-sink and holders. Also, they can be adapted to be used in spotlights (even those with a narrow beam angle of 15-25°).
Samsung is showcasing its small-LES LC series along with other LED component solutions in booth B04 (hall 6.2) of the Light + Building trade fair in Frankfurt, Germany (13–18 March).
Samsung launches chip-on-board LED packages with small LES and advanced color quality
Visit:  www.samsung.com