23 March 2016
Taiwan LED maker Epistar finalizes qualification of Aixtron's AIX R6 MOCVD system
Deposition equipment maker Aixtron SE of Herzogenrath, near Aachen, Germany says that Epistar Corp of Hsinchu Science-based Industrial Park, Taiwan (the world's largest manufacturer of LED epiwafers and chips) has achieved all milestones in the internal qualification process of the AIX R6 beta-type metal-organic chemical vapor deposition (MOCVD) production system.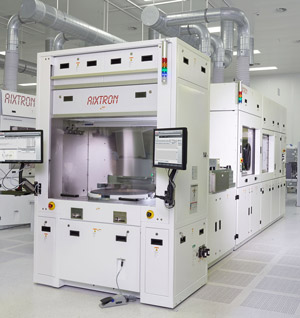 Picture: Aixtron's AIX R6 MOCVD system.
Aixtron says that, in the course of the qualification process, the AIX R6 confirmed its value proposition in terms of throughput maximization, intrinsic yield and uniformity. Designed in particular for LED mass production, the AIX R6 also demonstrated its cost advantages through precursor efficiency and continuous run production operation, the firm adds.
"We have been satisfied with the performance of Aixtron's Showerhead tool during the internal test phase, especially with its improved uniformity which is the basis for high-quality LED products," says Epistar's president Dr M. J. Jou. "We are looking forward to benefit from the system's low cost of ownership in the future," he adds.
"The AIX R6 is a state-of-the-art LED manufacturing system that recognizes the needs of the LED industry, especially with regard to output, efficiency and costs," says Aixtron's executive VP & chief operating officer Dr Bernd Schulte. "Based on our long-standing and trustful business relationship with Epistar, we are looking forward to the further cooperation with one of the leading and most innovative players in the global LED market." 
Tags: Aixtron MOCVD Epistar LEDs
Visit: www.epistar.com.tw
Visit: www.aixtron.com