2 March 2016
Aixtron's revenue grows 14% in Q4 as diversification outweighs LED-related China loss
Deposition equipment maker Aixtron SE of Herzogenrath, near Aachen, Germany has reported full-year revenue for 2015 of €197.8m, up 2% on 2014's €193.8m.
Contrary to expectations, San'an Optoelectronics Co Ltd (China's largest LED maker) did not qualify Aixtron's new AIX R6 metal-organic chemical vapor deposition (MOCVD) system (contributing to Asian revenue falling from 83% of total revenue in 2014 to just 60% in 2015, while Europe rose from 13% to 18% and the Americas from just 4% to 22%). Full-year revenue was hence down about 16% on the original forecast (given in February) of €220-250m. But despite this, revenue was towards the upper end of the revised guidance of €190-200m given in late October. Most recently, fourth-quarter 2015 revenue was €62.5m, up 8% on Q4/2014's €58m and up 14% on Q3/2015's €54.6m.
"We were able to do this by compensating for lower revenues in the LED segment with significant growth in other technology areas," says president & CEO Martin Goetzeler. "This is a result of the progress we have made in implementing our diversification strategy," he adds.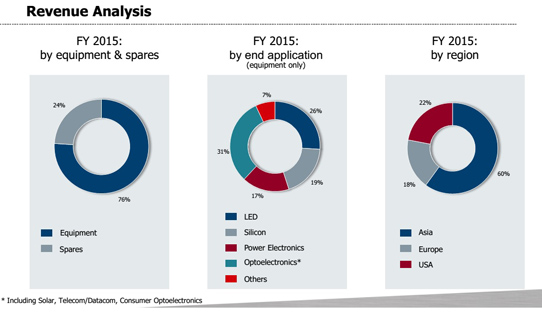 As demand for high-performance and energy-efficient components for use in markets such as communications, data storage or electric mobility increases, demand is growing for semiconductors for optoelectronics and power electronics, says Aixtron. In contrast, the LED market remains challenging even though the global trend towards LED lighting continues, adds the firm. However, excess capacities and very intense competition between LED makers in Asia put a strain on the demand for MOCVD production systems.
The broader distribution of revenue by application reflects the greater diversification of the technology and product portfolio: from 2014 (as a proportion of total revenue), while LEDs have fallen from 68% to 26%, in contrast optoelectronics (excluding LEDs) has risen from 9% to 31%, silicon-based microelectronics from 11% to 19%, power electronics from 7% to 17%, and other applications from 5% to 7%.
"Aixtron has a promising technology and product portfolio which we are developing systematically," says Goetzeler. "Leaving aside LEDs, we were able to register the best year for optoelectronics (especially for applications such as laser, infrared LEDs and photovoltaics, as well as power electronics) in a long time by partially tripling our revenues," he adds. "Although we are in an early phase in the area of carbon nanotechnology, we achieved another improvement in revenues in 2015. Based on our technology for memory chips, we almost doubled our revenues in the silicon industry and we have continued to drive forward our market positioning for the development of new logic applications."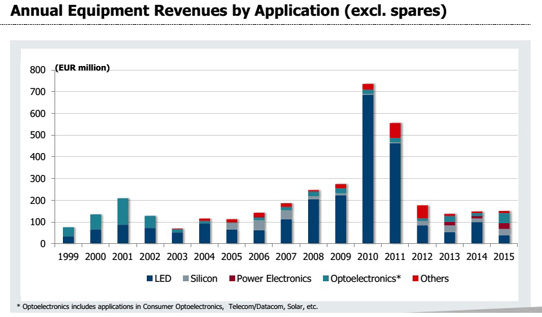 Gross margin was 31% in Q4/2015, down slightly from 33% in Q3 but up from 18% a year ago. Full-year gross margin has risen from 20% in 2014 to 25% for 2015, driven by an improving product mix and favorable currency effects.
Operating expenses were €21.1m in Q4/2015, up from €16.3m in Q3 but cut from €30.5m a year ago. Reflecting the better cost control, full-year operating expenses have been cut from €98m in 2014 to €76.5m in 2015, remaining well below the targeted €80m. This is despite significant R&D investment of €55.4m (down from 2014's €66.7m) in system technologies such as organic light-emitting diodes (OLEDs) and III-V-on-silicon (TFOS).
Full-year EBITDA (earnings before interest, tax, depreciation and amortization) improved from -€41.3m for 2014 to -€16.4m for 2015. However, although down on +€13.9m a year ago, Q4/2015 EBITDA was +€1.3m (following +€4.1m in Q3/2015). Hence, with an overall positive EBITDA of +€5.4m, Aixtron met the expectations of EBITDA break-even in second-half 2015, reflecting the evolving product mix, the favorable currency performance, and increased in productivity. "Achieving positive EBITDA in the second half of 2015 as planned and without the revenue share from China confirms our cost discipline as well as the progress in the implementation of our diversification strategy," says Goetzeler.
However, free cash flow has deteriorated further, from +€5.9m a year ago and -€10m in Q3/2015 to -€35m in Q4. Full-year free cash flow has declined from -€47m in 2014 to -€57.3m for 2015. This was driven mainly by a partial repayment of advance payments from San'an for the originally ordered 50 AIX R6 systems. The remaining repayment was made in Q1/2016.
Capital expenditure in Q4/2015 was €2.9m (level with Q3), contributing to full-year CapEx of €13.3m in 2015 (roughly level with €13.4m in 2014)
During 2015, cash and cash equivalents has hence fallen by €58.7m from €268.1m at the end of 2014 to €209.4m at the end of 2015.
Full-year equipment order intake has fallen by 16% from €198.7m in 2014 to €167.1m in 2015 (including €31.3m in Q4, down 9% on €34.4m in Q3 and down 37% on €49.3m a year ago), due mainly to lower overall market demand especially for LED production systems as well as the effect from the longer-than-expected qualification process of the AIX R6. Due to internal policies regarding the registration of system orders, the major order from San'an was not part of the equipment order backlog. Total equipment order backlog of €42.9m at the end of 2015 was 34% lower than the €65.2m at end-2014 and 38% lower than the January 2015 opening backlog of €69m, due to the high level of deliveries as scheduled at the end of 2015 in combination with low order intakes.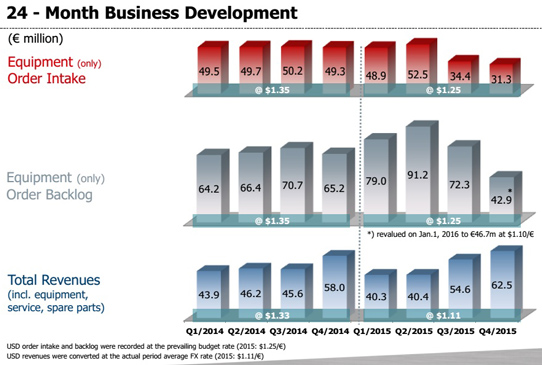 Aixtron says that, to speed up the firm's transformation, it is working continuously on efficiency and productivity improvements in the course of its internal Quality & Business Improvements (QuBI) initiative. In addition, the company is continuing to proceed with the diversification of its technology and product portfolio. By expanding technologies solutions for power semiconductors, logic and memory, carbon nanostructures as well as targeted investments in OLED technologies, Aixtron aims to exploit new market opportunities. "With the installation of our Gen8 demonstration system and the acquisition of the encapsulation technology from PlasmaSi [of Fremont, CA, USA - which provides low-temperature silicon nitride plasma-enhanced chemical vapor deposition (PECVD) systems for the encapsulation of organic thin-films], we see ourselves in a good position for the current year," notes Goetzeler.
Based on Aixtron's current order situation, Aixtron expects revenue of €170-200m for full-year 2016, with significantly stronger revenue generation in second-half 2016 compared to first-half 2016. Currency-adjusted order intake is expected to be at the same level as in 2015.
Depending on the successful completion of qualification processes and market entry efforts as well as the achievement of revenues at the high end of the revenue guidance range, Aixtron expects another improvement in results in 2016. EBITDA, EBIT, net result and free cash flow are expected to improve slightly compared with 2015 but to remain negative for full-year 2016. Positive EBITDA is expected for full-year 2017.
Aixtron's revenue grows 35% in Q3  
Aixtron lowers full-year 2015 revenue guidance from €220m-250m to €190-200m
Aixtron's first-half revenue and margin suppressed by delayed customer qualifications for AIX R6 MOCVD tool
Aixtron improves earnings despite revenue drop while new MOCVD system undergoes qualification
Aixtron acquires PECVD-based OLED thin-film encapsulation firm PlasmaSi
Aixtron's revenue rebounds by 27% in Q4, driving 6% growth in full-year 2014
Aixtron continues reorganization in 2015
Aixtron launches AIX R6 next-generation MOCVD system
China's San'an expands by ordering 50 Aixtron MOCVD systems
Aixtron outlines 5-Point Program to return to sustainable profitability
Tags: Aixtron MOCVD PECVD OLEDs
Visit: www.aixtron.com