1 July 2016
Rohm expands lineup of low-profile, ultra-compact PicoLEDs from 8 to 15 colors
Rohm of Kyoto, Japan has added seven new colors to its PicoLED series of low-profile, ultra-compact chip LEDs optimized for wearable technology, portable devices, and drones, allowing for greater color expression and improved design freedom it is claimed.
In recent years the number of applications that have adopted LEDs for lighting (in conjunction with a notification function) has grown significantly, says Rohm, and greater miniaturization at the component level is increasingly demanded for compact portable equipment. For drones in particular, adoption in new applications is expected, such as utilizing multiple drones that integrate LEDs in visual performances. Also, due to significant expansion in these markets, companies have begun focusing on proprietary designs that require compact LEDs in a wider selection of colors, notes Rohm.
In response, Rohm developed the SML-P1 series of class-leading thin, compact chip LEDs, using an integrated production system and leveraging its strengths in element technology to eliminate wavelength variations that in the past have proven problematic. Rohm was hence able to increase the number of colors from 8 to what is claimed to be an industry-leading 15.

Combining a lower gold wire loop with a thinner light-emitting element (developed using proprietary production technology) makes it possible to achieve what is claimed to be the thinnest form factor on the market (just 0.2mm) in a class-leading small package size (1.0mm x 0.6mm). This contributes to the greater compactness, lower profile and light weight (0.2mg) required for portable devices and drones. Also, package miniaturization technology makes it possible to position the light-emitting element in a 0.6mmx0.6mm area, providing square emission characteristics ideal for dot matrix displays.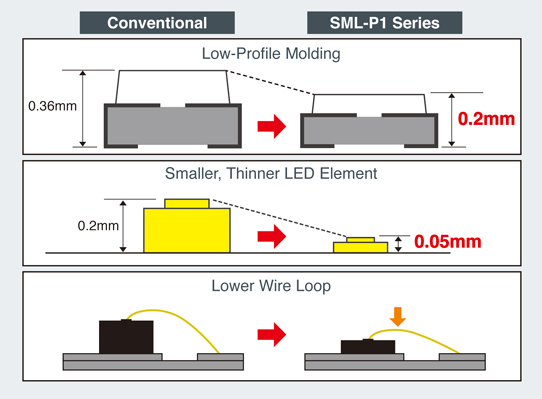 In addition, taking into consideration usage conditions during reflow allowed Rohm to prevent solder intrusion into the resin by implementing penetration countermeasures within the package itself. In particular, a type of stopper called a solder resist is implemented before the gold plating process to block the gold pattern (which features good wettability). This makes it possible to prevent solder from penetrating the resin, eliminating failures due to short-circuits and improving reliability considerably.
Going forward, Rohm will focus on strengthening its PicoLED lineup to include high-brightness types as well as expand its lineup of RGB LEDs capable of improved color mixing.
Tags: Rohm
Visit: www.rohm.com