5 July 2016
Hanergy launches full-solar-power vehicles with daily range of 80km
China-based thin-film solar power firm Hanergy Holding Group has launched four full-solar-power vehicles at a ceremony (attended by over 4000 guests) themed 'Disruptive Innovations Drive the Future' outside its headquarters in Beijing. R&D on the full-solar-power vehicles was undertaken independently by Hanergy, which owns more than 120 patents and proprietary intellectual property rights for them.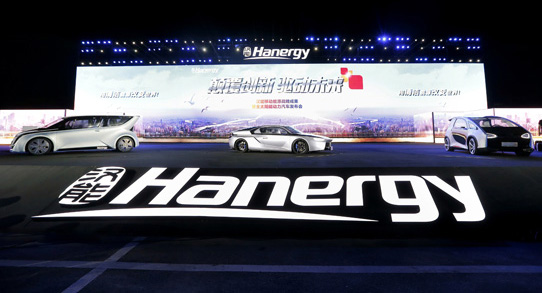 Picture: Beijing-based Hanergy launches full solar power vehicles.
Board chairman & CEO Li Hejun debuted the new sports car 'Hanergy Solar R' by driving it around the venue. The new series of vehicles also includes the Solar O, Solar L and Solar A, targeted at different groups of users.
In his speech, Li elaborated on the advantages of thin-film solar cells such as light weight and flexibility, enabling the cells to be integrated into products like cars, unmanned aerial vehicles, mobiles, backpacks and clothes. The new full-solar-power vehicles showcase the latest achievements of Hanergy's mobile energy strategy, he said.
With a solar energy conversion rate of 31.6%, Hanergy's gallium arsenide (GaAs) dual-junction solar cell was awarded with a World Record Certificate by the World Record Association at the launch event. Previously, on 5 January, the technology had been recognized by the US National Renewable Energy Laboratory (NREL) for its record efficiency.
The four new full-solar-power vehicles are integrated with flexible, highly efficient GaAs solar cells, maximizing the area covered (3.5-7.5m2). Through a series of precise control and managing systems (including a photoelectric conversion system, an energy storage system and an intelligent control system), the zero-emission vehicles use solar energy as the main driving force. With 5-6 hours of sunlight, the thin-film solar cells can generate 8-10kW-hr of power per day, allowing the vehicle to travel about 80km (equivalent to over 20,000km annually), and hence satisfying the requirements for city driving under normal circumstances.
Users can manage different travelling and weather modes in a real-time, mobile, networked and smart way, selecting charging modes in accordance with varied weather conditions through Apps on their mobiles. In everyday-use mode, the vehicles can charge themselves with solar energy while traveling, making 'zero charging' possible for medium- and short-distance journeys. So, unlike traditional electric vehicles, the full-solar-power vehicles hence no longer need to rely on charging posts, eliminating the concept of 'distance per charge'. For weak sunlight or long-distance travel, the lithium batteries in the vehicle can get power from charging posts, enabling them to travel a maximum of 350km per charge.  
Hanergy claims that the four new vehicles are the first full thin-film solar power vehicles that can be commercialized, breaking the bottleneck of poor practicality of previous solar-powered vehicles. The firm has also signed a framework agreement with Foton Motor to cooperate on developing clean energy buses.
Alta Devices sets 31.6% one-sun solar cell efficiency record
Hanergy to build 10MW plant in Wuhan for Alta's flexible GaAs solar cells
Alta Devices cooperating with Airware to integrate solar power into small UAVs
Hanergy completes acquisition of GaAs thin-film PV firm Alta Devices
Hanergy secures $3.3bn in financing for renewable energy projects
China's Hanergy acquires US-based CIGS PV firm Global Solar Energy
China's Hanergy completes acquisition of Silicon Valley CIGS PV firm MiaSolé
Hanergy to acquire Q.CELLS' CIGS PV subsidiary Solibro  
Tags: Alta Devices GaAs PV Hanergy
Visit: www.hanergy.com
Visit: www.altadevices.com