20 January 2016
Mitsubishi Electric launching 10G DWDM can-type EML-TOSA optical transmitter module to reduce power consumption in radio access networks
On 1 February, Tokyo-based Mitsubishi Electric Corp will start shipping the new Model FU-615REA 10Gbps optical transmitter for high-speed, large-volume data transmission between base-stations and central offices in radio access networks within mobile telecommunication systems.
The new module, which comprises an electro-absorption modulator laser (EML) and a transmitter optical sub-assembly (TOSA), reduces fluctuations in optical wavelengths for dense wavelength-division multiplexing (DWDM). In LTE and LTE-Advanced fourth-generation (4G) mobile systems, DWDM has attracted attention as a means of reducing the power consumption of optical transmitter modules that transmit data between base-stations and central offices.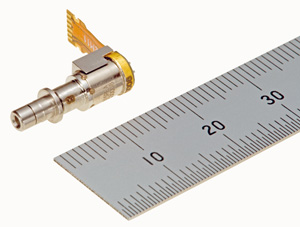 Picture: Mitsubishi Electric's 10Gbps DWDM can-type EML-TOSA.
The module, which has external dimensions complying with the 10Gbps Miniature Device Multi Source Agreement (XMD-MSA), features a cylindrical can-type — not box-type — profile suitable for mass production.
Mitsubishi Electric says that, due to an optimized EML structure, its new can-type TOSA can operate at what is claimed to be an industry-leading maximum temperature of up to 95°C. This helps to reduce the power consumption of the thermoelectric cooler by about 50% compared to Mitsubishi Electric's existing FU-612REA model EML-TOSA (for 10G DWDM over 40km reach). Power consumption of the thermoelectric transducer is less than 0.5W. This in turn helps to reduce the power consumption and size of optical transmission network equipment.
Also, the optimal EML structure reduces fluctuations in optical wavelengths due to operating temperatures, enabling compatibility with DWDM (contributing to increased traffic capacity). Specified wavelengths are 1529.55-1561.42nm (ITU grid: C-band, with 100GHz spacing). The transmission reach is 25km.
Mitsubishi Electric's new 10Gbps EML-TOSA transmitter module cuts power consumption by 50%
Tags: 10Gbps EML-TOSA transmitter module
Visit: www.mitsubishielectric.com/semiconductors/products/opt