22 February 2016
Solar Frontier Americas sells 20MW solar power project to Southern Power/Turner Renewable Energy
Solar Frontier Americas – which is the US subsidiary of Tokyo-based Solar Frontier, the world's largest manufacturer of CIS (copper indium selenium) thin-film photovoltaic (PV) solar modules – has sold the 20MW Calipatria solar power generation plant to Southern Power and Turner Renewable Energy (representing Solar Frontier's second solar project sale to Southern Power).
Southern Power is a subsidiary of Southern Company (one of the largest utilities in the USA, with a renewable energy portfolio of over 1800MW of capacity ownership). Turner Renewable Energy (owned by Ted Turner) teamed with Southern Company through a subsidiary in 2010 to form a strategic alliance to pursue the development of renewable energy projects in the USA. The partnership has focused primarily on developing and investing in large-scale PV projects in the southwest USA. Solar Frontier America's Calipatria project is Southern Power's ninth solar acquisition with Turner Renewable Energy, and brings the partnership's overall solar capacity to more than 340MW operating or under development.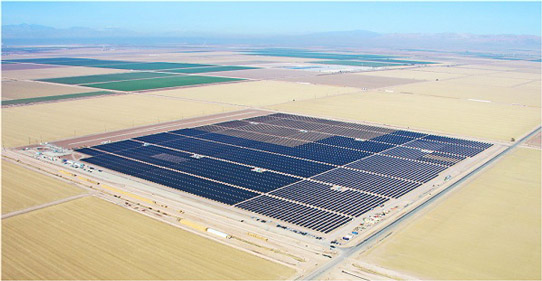 Picture: The Calipatria Solar Project.
Calipatria Solar Project is constructed with about 130,000 CIS modules mounted on single-axis trackers and has a 20-year power purchase agreement (PPA) with San Diego Gas & Electric Company. Located in Imperial County, California, the project is part of Solar Frontier America's 280MW US project pipeline. The firm currently has a series of projects in various stages of development in California.
The Calipatria solar power generation plant was developed by Solar Frontier Americas Development LLC, a division of Solar Frontier Americas with offices in San Francisco, CA, and Reno, NV. Construction on the project started in August 2015 and is expected to be completed in first-quarter 2016. The plant should be capable of generating enough solar energy to meet the electricity needs of about 5000 homes in the USA annually.
Tags: CIS thin-film PV modules
Visit: www.solar-frontier.com