4 February 2016
Oclaro's quarterly revenue grows 8%
For fiscal second-quarter 2016 (to 26 December), Oclaro Inc of San Jose, CA, USA (which provides components, modules and subsystems for optical communications) has reported revenue of $94.1m (slightly above the $88-94m guidance). This is up 7.5% on $87.5m last quarter (the second consecutive quarter with revenue growth of 7% or higher) and up 8.4% on $86.8m a year ago..
By region (compared with last quarter), the Americas rose from 30% to 35% of total revenue, while China fell back slightly from 38% to 37%, Europe fell from 19% to 16%, Southeast Asia fell from 11% to 10%, and Japan fell from 2% to 1%. There were three customers with greater than 10% of sales (21%, 16% and 10%, respectively).
By end-market (as a proportion of total revenue), Datacoms comprised 54% (versus 47% a year ago) and Telecoms 46% (versus 51% a year ago), with both client-side and line-side businesses growing. Specifically, line-side revenue was $43m, up almost 8% on last quarter. Client-side revenue was $50m, up about 7% on last quarter.
Growth was led by 100G product revenue of $49.9m (53% of total sales), up 21% (more than the expected 10-20%) on $40.8m (47% of sales) last quarter and up 44% on $33.7m (39% of sales) a year ago.
Wireless sales fell as Oclaro continued to de-emphasize lower-speed wireless business. "Given the strength of our 100G products, we further accelerated the discontinuation of some of our lower-margin 10G product lines," says CEO Greg Dougherty. Revenue for 10G-and-lower products was $33.3m (35% of total sales), down 7% on $35.9m (41% of total sales) last quarter.
Revenue for 40G products was $11.3m (12% of total sales), roughly flat on $10.8m (12% of total sales) last quarter but down from $19.3m (22% of total sales) a year ago.
"With a second consecutive quarter of 20% sales growth in our 100G portfolio, we again delivered stronger financial performance," says CEO Greg Dougherty. "Revenue growth drove higher gross margin and net income," he adds.
On a non-GAAP basis, gross margin was 28.8%, up from 26.4% last quarter (driven by 100G sales growth and manufacturing efficiencies, offset by a weaker mix of 10G) and up from 16.5% a year ago (as improvements in 100G sales mix, factory absorption, manufacturing overhead leverage and inventory management offset a reduction in 40G telecom business).
Due mainly to restructuring programs implemented last year, operating expenses have been cut further, from $24.2m (27.9% of revenue) a year ago and $23m (26.3% of revenue) last quarter to $21.8m (23.2% of sales).
Due to the improved revenue and gross margin, combined with lower operating expenses, operating income was $5.3m, up from $0.4m last quarter and compared with a loss of $9.8m a year ago.
"A combination of revenue growth, strong 100G mix and continued improvements in our execution, resulted in us delivering another strong financial quarter," says Dougherty. "This was our seventh consecutive quarter of improved financial performance," he adds. "We have achieved positive earnings per share in this quarter." Net income was $3.1m ($0.03 per diluted share), compared with net losses of $1.8m ($0.02 per basic share) last quarter and $9.9m ($0.09 per basic share) a year ago.
Driven by improvements in working capital (both from receivables and payables) along with positive free cash flow, adjusted EBITDA more than doubled from $4.2m last quarter to $9m (above guidance), compared with a loss of $5.5m a year ago. This exceeded capital expenditure (CapEx) of $8.3m (which more than doubled from $3.8m last quarter).
During the quarter, cash, cash equivalents, restricted cash and short-term investments hence rose from $107.7m to $115.7m.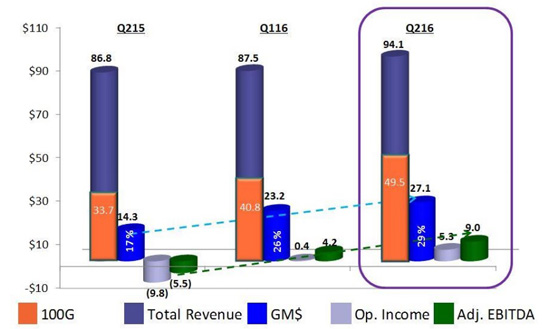 "We continue to see robust demand for our 100G product portfolio combined with favorable market conditions," says Dougherty. "As we expand capacity in Asia, both for our current and new 100G products, we expect revenue growth in 2016 to continue."
For fiscal third-quarter 2016 (ending 26 March), Oclaro expects revenue to grow by $3-9m to $97-103m, despite the March quarter typically being a down quarter due to the annual price negotiations toward the end of the preceding year. The increase is driven by a continuation of strong sequential growth in 100G. This will counteract declines of $3-4m in 10G and $1m in 40G (a 10% drop in combined 10G + 40G revenue, to be followed by a flat June quarter at $40m, before declines of 10% per quarter in the September and December quarters driven mainly by end-of-life 40G products). Gross margin should fall slightly to 26-28% in fiscal Q3. Operating income is expected to be $2-6m.
"We expect to see strong demand for our 100G products through this calendar year, driven by several projects in China, continued success for 100G client-side products, increased market share for our micro-ITLA lasers and modulators, and the production ramp of our CFP2-ACO products," says Dougherty. The China Mobile award involves over 21,000 line-side 100G parts. Most of the delivery for this project is scheduled for calendar Q1-Q2/2016.
"We're also seeing very strong demand from North American and European router and optical companies for the 100G LR4 products," notes Dougherty. "Many customers appear to be moving away from 10G muxponder cards and going towards native 100G client interfaces," he adds. "The introduction of 100G single-mode inside the data center will begin to ramp in the middle of 2016," believes Dougherty. "Our focus has been on single-mode duplex fiber architectures. As a result of the outstanding performance of our high-speed lasers, we have received several early design wins for our QSFP28 products, both CWDM and LR4 [with production ramping through this summer]," he adds. 
"Growth in [fiscal] Q3 will not be gated by demand," notes Dougherty. "We're running very tight on capacity for most of our 100G products, as well as our tunable 10G offerings," he adds. As a result of all these factors, Oclaro is gain increasing capacity for its CFP family of products (CFP, CFP2 and CFP4) – the firm's third capacity increase in the last 18 months.
The CFP2-ACO product has completed qualification at Oclaro's UK pilot operation and now achieved interim qualification for the China optical subassembly volume manufacturing line. Oclaro has also received customer signoff on the production lines at its factory in Shenzhen and for contract manufacturer Venture's factory in Penang. Oclaro remains on track for first shipments from Asia to customers in late March. "We will ramp both manufacturing lines for the ACO over this calendar year and we expect to go from shipping hundreds per quarter to thousands per quarter by the end of this year," believes Dougherty. "We continue to believe that the majority of the early demand will be focused on data-center interconnect, but expect to begin seeing the North American metro program start ramping later this summer," he adds.
"Our ability to grow will be governed by how quickly our capacity comes online, as well as the capability of some of our piece-part vendors to respond to our increased demand," says Dougherty. For full-year fiscal 2016, Oclaro still expects to invest $30-40m in CapEx to support additional capacity for both 100G client- and line-side growth.
Oclaro achieves positive adjusted EBITDA and non-GAAP operating income
Oclaro reports better-than-expected preliminary quarterly results
Oclaro's CFP 100G client-side transceiver capacity expansion compensates for drop in 40G telecom sales
Oclaro's revenue constrained by 100G client-side CFP and CFP2 module capacity
Oclaro's core communications revenue grows 4% quarter-to-quarter
Tags: Oclaro
Visit: www.oclaro.com