26 February 2016
Lumileds' Gen 3 LUXEON CoB Core Range boosts efficacy by 10% to 160lm/W
LED maker Lumileds of San Jose, CA, USA of San Jose, CA, USA has launched its LUXEON Core Range (Gen 3) third generation of chip-on-board (CoB) arrays, providing 10% higher efficacy at constant flux compared with previous generations.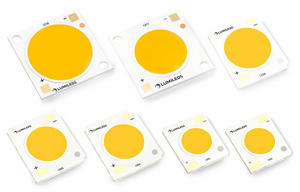 Picture: LUXEON Core Range (Gen 3) arrays.
"This performance upgrade is the result of significant improvements in both die development and our industry-leading phosphor solutions," says Eric Senders, product line director for the LUXEON CoB Family. The Gen 3 LUXEON CoB upgrade spans the firm's full range of products from the smallest light-emitting surface (LES) of 6.5mm (LUXEON CoB 1202s, which delivers cost-effective spotlights) to an LES of 23mm (LUXEON CoB 1216, for efficient replacement of 100-150W HIDs in indoor or outdoor applications). The LUXEON CoB Core Range is offered over what is claimed to be the widest range of correlated color temperatures (CCTs of 2200K to 5700K) and color rendering indexes (CRIs of 70, 80 or 90).
Lumileds also attributes the performance to its low thermal resistance substrate, which is reckoned to be up to four times lower than other commercial products. The low thermal resistance enables smaller heat-sinks and optics, delivering lower system cost. All LUXEON CoB Core Range (Gen 3) arrays are hot tested at 85°C to ensure performance in real-world operating conditions and to minimize additional testing.
For ease of upgrade, the LUXEON CoB Core Range (Gen 3) products are fully compatible with the LUXEON CoB Gen 1 and Gen 2 arrays. The firm adds that its ecosystem of compatible drivers, optics and holders helps to speed the time-to-market of all directional lamps.
Lumileds boosts LUXEON CoB Core Range efficacy and flux by 10%
Tags: Lumileds
Visit: www.lumileds.com/LUXEONCoBCoreRange