11 February 2016
k-Space's ICE metrology tools installed on NuFlare's GaN-on-Si MOCVD reactors
k-Space Associates Inc of Dexter, MI, USA (which supplies thin-film metrology tools for the semiconductor, compound semiconductor and solar markets) says that semiconductor equipment maker NuFlare Technology Inc of Kanagawa, Japan has installed multiple kSA ICE (Integrated Control for Epitaxy) in-situ metrology tools for process monitoring and control. The kSA ICE tools measure real-time wafer temperature, curvature and reflectance for NuFlare's custom multi-chamber metal-organic chemical vapor deposition (MOCVD) reactors, focused on the growth of gallium nitride (GaN) on 200mm silicon substrates.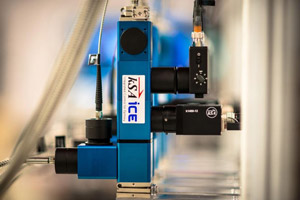 Picture: A kSA ICE head mounted on a reactor.
The NuFlare MOCVD system can be configured with up to four, single-wafer 200mm MOCVD process modules. k-Space worked with NuFlare to develop a custom kSA ICE tool that allows for simultaneous real-time measurement from multiple measurement heads on each process module from a single controller. This helped to reduce the total system costs while maintaining full monitoring and control capabilities, says k-Space.
The ICE tools perform patented curvature measurements that are critical to GaN-on-Si integration. Moreover, by measuring the temperature of the wafer via emissivity-corrected pyrometry (ECP) at two positions on the wafer, users obtain temperature control to better than 1°C. This kSA ICE multi-chamber design allows measurement heads to be easily added as a user moves from one process module up to four 200mm process modules, adds the firm.
"NuFlare worked side-by-side with us to help develop a kSA metrology tool tailored to the needs of this growing market," comments k-Space's head of product development Dr Chuck Taylor. "The modular capability of this custom kSA ICE tool is an ideal cost-effective solution for a multi-module MOCVD system," he believes.  
Tags: k-Space Associates Metrology MOCVD
Visit: www.nuflare.co.jp
Visit: www.k-space.com/products/ksa-ice