13 December 2016
Lumileds' third-gen LUXEON UV LED doubles irradiance power of smallest UV emitter at 380-390nm
LED maker Lumileds of San Jose, CA, USA says that, leveraging its expertise in chip-scale packaging, it has launched the LUXEON UV U1 LED for UV curing, counterfeit detection, analytical instrumentation, inspections and other UVA and violet (380-420nm) applications.
This third generation of UV LEDs maintains the same micro package size as the LUXEON Z UV, but enables a higher power density. The LUXEON UV U1 also features a robust design that eliminates materials like silicone over mold (which tends to yellow and crack upon UV exposure) and wire bonds (which can lead to catastrophic connection failures). "UV LED customers are reliability driven," says Yan Chai, product line director of Lumileds UV LEDs. "They tend to run their equipment 24/7 and demand a proven product that will perform as expected for over 20,000 hours," he adds.
The LUXEON UV U1 LED is nominally tested at 500mA but can be driven at up to 1A to achieve higher irradiances. For UV curing at 395nm, it achieves 700mW at 500mA and >1300mW at 1A under 25oC.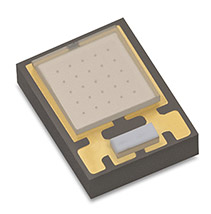 Picture: Lumileds' new LUXEON UV U1 LED.
Compared with the 3.5mm x 3.5mm package size of most UV LEDs, LUXEON UV U1's unique 2.2mm2 micro SMD package size delivers greater packing density as well as more than five-fold greater power density, it is reckoned. The LUXEON UV U1's footprint is a drop-in replacement for the LUXEON Z UV, while providing twice the typical radiometric power as its predecessor at 380-390nm (a popular wavelength range for UV curing applications).
The surface-mount LEDs can be tightly assembled with spacing as small as 200µm for high system flux density. With a wall-plug efficiency exceeding 45+% and thermal management aided by an AlN package, users can avoid the use of more expensive water cooling at the system level, adds Lumileds.
Lumileds launches LUXEON UV LEDs as smallest high-power UV emitters
Adoption of flip-chip LEDs and chip-scale packaging changing material/equipment market and supply chain
Visit: www.philipslumileds.com/products/luxeon-uv